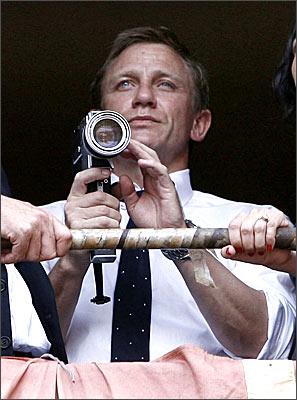 Double-o-seven is back.
Here we see Daniel Craig reprise his role as ladykiller secret agent James Bond in the first film still from the next Bond film.
Currently being produced as Bond 22, the new film has yet to announce a title -- or a Bond-girl. Rumours for the stunner's part this time around include Abbie Cornish and Carice van Houten -- with several British publications tossing Shilpa Shetty's name into the mix as well.
Surprisingly, despite the massive success last year, Casino Royale director Martin Cambell isn't at the helm this time, Bond producers opting instead for Marc Forster -- a moodier, more cerebral filmmaker behind movies like Finding Neverland and Stranger Than Fiction. Besides Bond, Forster is also currently adapting the Khaled Hosseini bestseller, The Kite Runner.
Reports also indicate that Paul Haggis, the Oscar-winning screenwriter of Million Dollar Baby and Crash (which he also directed), may be brought on board to polish the script for Bond 22.
This picture shows Bond in Sienna, Italy, at a balcony overlooking the traditional Madonna dell'Assunta Palio horse race.