The eagerly awaited
Chak De! India
scored no goal at the lucrative North American box-office.
In fact, its scanty $351,000 take in three days could enter Shah Rukh Khan's all-time hall of shame. The film opened at number 20 on the box-office charts. Its collection from 62 theatres showed that Shah Rukh, who has an invincible record in the US and UK (even Paheli, a dud in India, was a big hit abroad), could not make the film a success.
Even in the United Kingdom, the film has reportedly done disappointing business. Following the poor American and British run of Jhoom Barbar Jhoom, the poorer showing of Chak De is surely a big shock to the producers, Yash Raj Films.
To put things in context, compare the gross of Chak De to that of Partner. The latter opened to a nearly $600,000 weekend in North America and ended its run with a handsome $1.4 million. It made about $1.1 million in the United Kingdom. The Shah Rukh turkey would be lucky to end its North American run with a gross equaling half that of Partner.
There could be many reasons why Chak De is a disappointment at the box-office. One of them is the reluctance by Pakistani and Bangladeshi audiences, who adore Shah Rukh just as Indians do, to see a film which is a kind of cheerleader for India.
'It is like making a film called Mera Bharat Mahan or Hindustan Ki Kasam and putting Shah Rukh in the lead,' said an exhibitor who wanted to remain anonymous. 'No Pakistani or Bangladeshi will want to see a film like those.'
'But if Chak De had made a powerful impact on Indians,' he continued, 'and had they seen the film two or three times, it would easily become a hit and make up for the no-show Pakistanis and Bangladeshis."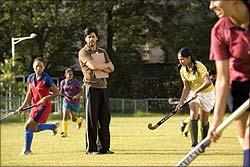 The failure of Chak De comes soon after Anil Kapoor's production Gandhi My Father ended its North American run with a crippling $235,000. It did not fare better on the other side of the Atlantic either.
>Both films received fairly good reviews in some of the mainstream publications. In the United Kingdom, Gandhi My Father was praised in The Guardian newspaper.
The New York Times liked quite a few things in Chak De. It referred to Shah Rukh as 'the assured Bollywood veteran,' and added that director Shimit Amin 'strikes a buoyant, propulsive tone, replacing the customary Bollywood production numbers with exhilarating musical montages of team practice.'
Shah Rukh received more praise from the reviewer Andy Webster, a junior in the film review department (The Times seldom gets its first and second string reviewers write on masala Indian films).
'For his part, Mr Khan, to his credit, lets his co-stars' youthful charisma carry the movie,' declared Webster.
True, but not to the extent that the film could become even a medium range hit here.