Born in Uganda, filmmaker Shimit Amin has dabbled in all forms of the craft, from sound to editing. His first film for Ram Gopal Varma productions, Ab Tak Chhappan, won him raves across India.
Now, he moves to a genre far from the gritty cop drama that fuelled his debut. Chak De! India stars Shah Rukh Khan and several unfamiliar faces that form a women's hockey team. The odds are stacked against them, of course. Shimit is confident though. He tells Raja Sen why...
I'm a huge fan of Ab Tak Chhappan. And this is such a departure from that in terms of genre...
Thanks. And well, they're both genre films. I'm not that averse to making genre stuff because most films are that, for me. They are different genres altogether, yeah, but they both have stories and characters which were interesting and worked. Both have a kind of Indianness to them; it only happens in India, you know?
So what is it that draws you to a script?
A good story and characters. And an opportunity to do something that challenges you, because of the content there is. You know, it did challenge me to make this kind of a movie.
Does that mean you were more comfortable with Ab Tak Chhappan?
Yeah. In a way, being uncomfortable about making a film can be what's interesting about it. You want to explore that and see what kind of a story you can tell. That way I think each work you want to try and find something interesting because you spend a year or two of your life on a film. They're good, solid stories, and that's what I look for -- a solid story that doesn't need the frills, but still works.
Which genre are you closer to? Which film would you be more likely to watch, as a viewer?
Both. I mean, beyond these genres, there are so many other genres I like. It's not like I feel this is a good genre and the only genre I want to do. I feel like I want to explore different tones. Every film has a different way you can approach it, and the more I explore that, the more interesting my work becomes.
In terms of watching, I like everything. Even abstract stuff. But I wouldn't attempt it. It's not my thing, I'm not equipped to handle it. But I love watching experimental stuff. I also love commercial ideas and get swept away by characters and emotions.
At the end of the day, you can say you're influenced by someone like (Ingmar) Bergman, who just passed away, but (laughs) your work has nothing to do with it! So you feel silly saying it.
What is it about a sports film that appeals to you? Isn't it a very predictable arc from the beginning?
Of course it is. But it's all about the characters. Yes, you know how it is going to be, but it's all about whom you take that journey with. That is as important as the journey itself. At the same time, it's always fun to play with your expectations. To see if you can make something people don't expect you to.
Where did this particular story come from?
It came from the writer, Jaideep Sahni. Years ago, he read an article about a women's hockey team that won some kind of championship. It was a small article buried somewhere on the back page. It haunted him -- who are these people? Who goes out and plays for the country and gets such little notice? Why is it not mentioned as much as the men's team is?
They work as hard as anybody but the money isn't there. As we started researching, we realised there are a lot of odds these players are up against. He read and read and amassed data before pitching the story to Adi Chopra, saying this story must be made. That is when I got involved in it.
You weren't involved at the conceptual level?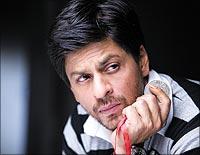 Not at all. When the script landed on my doorstep, I thought it a fascinating story, full of character and Indian values. I wanted to take a crack at it for it was full of humour and pathos with a level of intelligence.I wouldn't have expected it from a project like this, which is why I'm here. The way it is written is quite amazing.
The promos seem to reveal -- correct me if I'm wrong -- this is a 'no-heroine' film. Isn't that a big risk?
Yes, there are no heroines. That was something we didn't require because of the way the story was carved out. The idea just didn't require the usual garnish, but still worked. We said, okay, this is a strong script and there is enough content in it without us having to cloud the film's focus.
But a bunch of new girls, with no heroine -- didn't it seem like a commercial risk?
We had an enormous amount of faith in the script. Making a film is a mere translation of the script, and we loved the story, and these characters. We also knew it was vital we treat these characters well; it would only work if we cast each of them just right.
Also, do you think it's the kind of film that wouldn't have been made in India five years ago? What did you think of a film like Iqbal?
I think it's a wonderful film. It was groundbreaking in terms of the subject matter he (Nagesh Kukunoor, director) chose, and he showed that you can do something like that here. Nagesh's work is phenomenal that way, that he keeps pushing it. It's amazing that he's able to keep bringing in bigger and bigger audiences; quite exciting for all of us.
Tell us about Shah Rukh's character.
He plays an ex-hockey player who comes into the team after something has gone wrong in his life. He completely takes up this women's team and tries to push it, against a lot of obstacles, towards the world championship. He has suffered some loss and there is a certain association with his country, and his affection for it. It is something that has happened to a lot of players in the past, and this story is about his perseverance to make it work.
Was it a conscious decision to take girls from every possible state, in an effort to give the team an all-India feel?
If you research most Indian teams, you will see that people come from all over the country. And as I said, it is a very Indian film in the sense that if you look at the drama involved -- because of our diverse backgrounds -- it is already there; you can't buy that kind of drama. Different backgrounds, different socio-economic classes: The team was going to have some issues.
Was casting hard?
It was very, very difficult. We spent five to six months, and it was very strenuous because the requirement was they had to play -- and act.
Learning hockey is very tricky unlike, say, football. You have to know how to hold the stick, how to manoeuvre it, so it doesn't look fake on screen. We had training sessions for three to four months. They had to wake up at 4:30 am, go to camp and stick to a diet. It was pretty crazy, but we had to do it.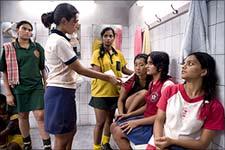 Unlike cricket, this is a very physical sport with 70 minutes of strenuous running, pushing a stick and bending that could break your back. The ball can hit you, as can the stick; we had to take many precautions to make sure our players knew what they had to do.
They had to be fit enough to go for 70 minutes -- actually, more, because we were shooting over an eight-hour day. For those who were originally players, we had to make sure they were able to act as well. The dialogue was weighty; it isn't frivolous. It has to be delivered with a certain tone, in a certain manner.
This film is also about awareness. A lot of your urban audience probably doesn't even know how hockey is played.
Exactly. We have made a conscious effort to entertain as well as 'teach' about the sport. It shouldn't feel like a lesson.
Do you think it could win the sport of hockey some fans?
I think it can. We became fans. I didn't know much about hockey when we started.
Shah Rukh has played hockey before. Is that partly the reason he plays the lead?
Shooting a match with him was easy because of the way he took to it. He knew the drill really well. As for why Shah Rukh Khan, we were just lucky. It was a huge coincidence that he turned out to be a hockey player.
Do you play at all?
I don't. I'm not a sportsperson at all.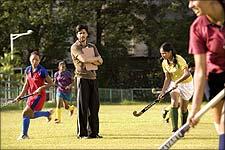 Does that make it harder to connect with a film like this then?
No, because I think I can make things dramatic. It's not harder to connect when I can identify with the dramatic elements in the story. I know what can make it work, what to pull, what to polish. It is an immensely dramatic film.
You know cricket; you know Sachin Tendulkar. But you don't know about the adversities people like them have to go through. They go through an enormous number of situations you and I could never imagine. Let's say you're in a tournament and something happens in your family, but you have to play tomorrow. What do you do?
Your first film did really well, while your second is shrouded by immense hype. How does that feel?
I don't know how much hype there is. Ultimately, people have to watch it and judge for themselves. I can't judge it because I get different reactions. There's no razzle-dazzle, but we have tried to stay true to the story and audiences are going to get their money's worth.
That's a big promise right there.
I'm pretty confident you will sit down and won't find anything that feels very out of place. I think the team has done a pretty good job. This wasn't easy training, and the entire cast and crew worked very hard. Something makes it very special when your cast is this dedicated, and I think that shows in the movie. You can tell you're making not a regular movie, but something special.