Making a movie on Lord Krishna is an uphill task. More so, if it's an animation film.
Children's films are a rarity in India [ Images ], and in that respect, Krishna scores a point.
Directed by Aman Khan, the film begins with Lord Krishna's birth and his childhood. His childish pranks like stealing butter, breaking pots and harassing gopis (young girls) are told in a narrative style.
There are also scenes of his clashes with demons, saving the villagers from the wrath of rain god Indra, slaying his demon uncle Kansa, playing the flute and indulging in Rasleela (playing with the women).
But the animation done by Media Solutionz falls short of expectations. It is not even a shadow of what we have seen in Tom and Jerry cartoons, and definitely not Hollywood films like Shrek and Finding Nemo.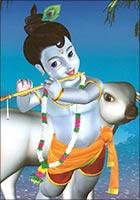 The scenes would have looked good if they were still pictures. They look like great paintings moving abruptly in jerks. The lip movements don't match the voiceovers. The characters end up looking like beautiful puppets.
After watching the film for a while, you would probably end up with a headache.
Music by Rajendra Shiv and songs by Kailash Kher [ Images ], Sonu Nigam [ Images ] and Alisha Chinai [ Images ] are unappealing. The background score by Bappi-Tutui does not make up for the film's lack of melody. 
A story which had the potential to entertain and inspire everyone, ends up doing nothing of the sort.
The two children sitting next to me did not enjoy the film. While the intentions behind the film may have been good, the execution leaves much to be desired.
Rediff Rating: