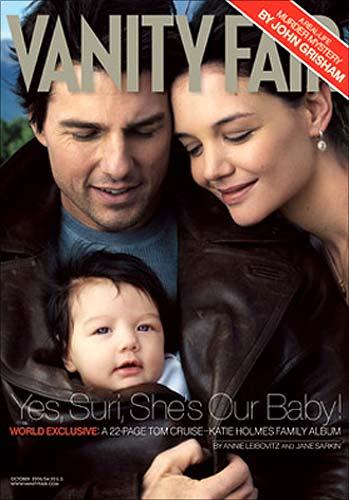 She exists.
After much media speculation regarding the existence of Tom Cruise and Katie Holmes' baby daughter Suri -- fuelled by the fact that the couple had not allowed the child to be photographed at all -- the infant's first pictures are finally out.
Published four-and-a-half months after her April birth, not just does Suri make her debut on the cover of Vanity Fair magazine, but she does it in style -- with a 22-page family album shot by none other than legendary photographer Annie Leibowitz.
Cruise, 43, and Holmes, 27, were photographed with their daughter on Tom's property in Telluride, Colorado -- and the pictures causing such a sensation right now were actually taken on July 27.
The photographs are accompanied by a revealing interview by the magazine's features editor Jane Sarkin.
Sarkin spent five days hanging out with the Cruises at the Telluride property. The couples' parents and siblings also happened to be present at the time.
The feature shows the Cruises as new, thrilled parents. 'She has Kate's lips and eyes,' Tom says of Suri. 'I think she looks like Kate.' Holmes counters, 'I think she has Tom's eyes. I think she looks like Tom.'
Thus the argument continues, even as Suri is welcomed to the world with a surefire sell-out issue. 
Photograph: Vanity Fair magazine