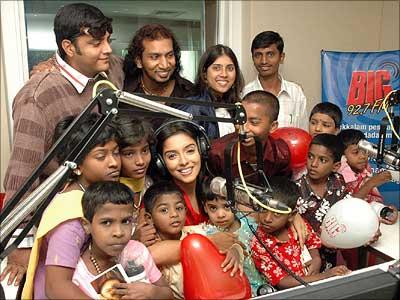 It was a birthday with a difference.
As a Brand Ambassador for Big 92.7 FM, actress Asin decided to celebrate her birthday today, October 26, at the FM radio station with a group of children from an orphanage.
Don't miss: Asin: I'm not a party person
Asin has been taking care of the children of Seva Chakra, a Chennai-based children's home, for quite some time now.
So, the radio station decided to invite 45 children to see the place while spending time with Asin (in the centre, with the headphones). Their wishes were broadcast live on air -- a unique birthday for the young actress.
After that, it was work as usual as Asin rushed to shoot for Dasavatharam with Kamal Haasan, where she plays a double role. Here's wishing her a Happy Birthday.