What saves Jaan-E-Mann -- a riff on the oldest love triangle saga -- from mediocrity, is a well-tuned sense of irony.
Jaan-E-Mann: The Alternate Review
One of the initial scenes marvellously throws you into a black and white awards function, where tension is rife as Rajesh Khanna and Amitabh Bachchan are beaten to the Best Actor Award by Salman Khan, sitting there rubbing shoulders with Dharmendra. It's a glorious Forrest Gump moment that Indian cinema has been crying out for, where Salman (playing a guy called Suhaan) in a dream sequence winks at Meena Kumari with an insouciant 'Thanks Meena.' Fab.
Several scenes and a couple of hours later, the sets are bright, garish yellow and the music blaring is an over-shehnai'd version of a Maine Pyar Kiya song. Salman, keeping double chin in check, isn't quite the same young hunk the nation flipped for back in the day, and as he grooves to the beats as an extra on a Bhojpuri movie set. It's interesting to reflect that, today, almost every still-acting star from the grainy period footage is working on some kind of Bhojpuri project. Hmm.
Anyway, moving along. Will you like Jaan-E-Mann? Well, if you can bring yourself to believe that Akshay Kumar is an Einstein-idolising geek called Agastya Rao, director Shirish Kunder is home free. The film depends on that wilful suspension of disbelief, and it's best to let go right with his opening shot, a waltzy nod to 2001: A Space Odyssey. The film traipses breezily through its story about a geeky boy turned spiffy astronaut, and a self-proclaimed superstar.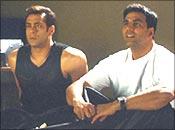 Back in college, long-haired Salman walked all over Akshay's dreams, stealing Preity without even noticing the dweeb in braces. Now, seven years later, Salman is sitting with his uncle Boney, a dwarf who picks up on every single 'short' reference. The two are cooking up a scheme to get struggling actor Salman out of his alimony woes. He owes ex-wife Preity a packet, and as the two (Salman on his knees eye-to-eye with tiny Anupam) pray for a miracle, enter Akshay Kumar, complete with halo. As they tell the unsuspecting dopey astronaut that Preity's divorced and in New York, the plan is simple: get him married to Preity so Sallu doesn't have to shell out a rupee.
So, smooth Salman walks within a hundred yards of Akshay, feeding him lines he knows his ex-wife will trip on. The wooing process is light and frothy, and by the time Akshay's got the hang of Preity, Salman's back in love. But, what now? It's one of those films that can fall either way, and it's chock-full of predictable cliche. What makes it work is the narrative.
First-time director Kunder doesn't hide his love for Broadway. The film unfolds neatly, with almost every set layering into the other. Walls fall back, rooms open into college campuses, contexts change, and a liberal dose of flashbacks helps disparate moments fuse conveniently together.
Which isn't to say it works entirely. While the plot proceeds amusingly enough in the first half, the second half is considerably tougher to tackle, audience-wise. A tearjerker doesn't translate perfectly to Kunder's frivolous cinematic grammar, but there are moments when it softens the punch -- the most typically maudlin Bollywood moments are lightened by glass comically shattering in the background. The execution could have been much better though; there are times when Kunder's gimmickry falls drastically short. But, for a first film, he definitely seems to have most of it right.
Salman Khan is the film's leading man, no question. It is his story all the way, as he goes from guardian angel to wistful lover. The actor has mellowed over the years, and now cries with more abandon. There is a realism to Khan's tears and, because he was always a likeable funny man, he carries the film with ease. Kunder presents him with some remarkable moments of pathos, and one particularly comes to mind: when he stands teary-eyed in Times Square and watches himself work in a diaper commercial. Honestly, it's good to see Khan back.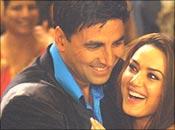 And while the film may not be his story, a large part of it coasts on Akshay's broad grin. The role forces him to push himself into an awkward box, a mousy fellow unsure of himself. It's a role he hasn't played and he takes it on very well indeed, providing the film's most memorable character with a very nuanced performance. This is an actor who seems to show increased maturity with every other role, and he is definitely heading in the right direction. His screen presence is electrifying, and it's great that he's playing against type.
Preity Zinta is an ornament throughout, but comes vividly alive in the film's last scene, a moment that makes you lament why filmmakers today don't let the babyfaced actress have more fun instead of forcing her to sob copiously. She doesn't have much to do in Jaan-E-Mann, but looks appropriately attractive.
Composed by Anu Malik, the music doesn't really click until you actually see it visualised. And after you do -- aided by Kunder's deft music-video storytelling -- it grows on you completely. Ever since Munna Bhai MBBS, street lingo has invaded the world of Bollywood lyric. Here, the slang brings extreme banality, making even the mushiest songs casual.
In the end, what echoes in your ears as you leave is Akki's thick, goofy he-he-he laugh. It's the best thing in the film.
Jaan-E-Mann: The Alternate Review
Rediff Review: