Aishwarya Rai might still be reeling from
the shock
of her
Umrao Jaan
bombing in India [
Images
], but American critics are still smitten with the star.
In a left-handed compliment, the review of
Umrao Jaan [

Images

]
in 
The New York Times
starts with the declaration: 'The price of being beautiful.' It goes on to say, '
Umrao Jaan
, a retelling of a historical Indian tale covered in a 1981 Bollywood classic, might also be a commentary on its star, Aishwarya Rai [
Images
]. Ms Rai, often hailed as the queen of Bollywood, has for many a global allure calling to mind that of
Brigitte Bardot
or
Sophia Loren
. But you hope Ms Rai does not suffer for her art as much as her character does.'
The review by Andy Webster singles out a 'vivid Shabana Azmi [
Images
].' Praising Ash's allure, the 300-word review which decried the film's excessive melodrama added, 'But the actress's presence is undeniable. Ms Rai has Western films coming;
Umrao Jaan
seems like a way station on her path to international success.'
Umrao Jaan
is another high profile movie after
Jaan-e-Mann
to have a soft opening overseas, but it isn't a cold turkey, at least in America and Canada [
Images
]. It grossed about $480,000 in its first weekend in North America, a respectable opening, taking 40 percent more than
Jaan-E-Mann
did in the corresponding period. But in the UK, the Aishwarya Rai and Abhishek Bachchan [
Images
] movie made just $250,000, a few thousand more than what
Don
grossed there in its third weekend.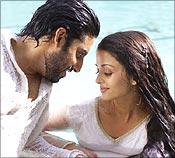 We will have to wait for one more week before we know if
Umrao Jaan
becomes a modest hit in North America or eats dust in its second week.
Meanwhile, Shah Rukh Khan's [
Images
]
Don
which is going stronger in the United Kingdom than in North America has grossed $2.4 million by its third weekend, and is sure to leave theaters with an impressive $3 million gross. With
Dhoom 2
around the corner, the durability of
Don
is seriously impaired.
In the North American market, it has grossed $1.95 million and could end its profitable run with a $2.3 million total gross, about $1 million less than
Kabhi Alvida Naa Kehna
grossed here.
Jaan-e-Mann
, in the meanwhile, is not showing signs of an impressive recovery and may end with a decent but unspectacular $750,000 in the lucrative North American market. It may be able to reach just about $500,000 in the United Kingdom.