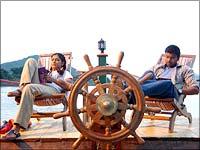 Godavari flows from reel to reel like the gentle waves of the river. Today, when cinema spells violence and vulgarity, the film is a reminder that cinema can be much more. It's a feel-good entertainer that lets you walk out the theatre smiling, yet with something to think about.
Sekhar Kammula has repeated the Anand charm and magic with this clean film. It is doing well in urban areas and rocking in the United States (where there is a sizeable Telugu population), says Sekhar, who has set out on a road show to promote the film in rural areas.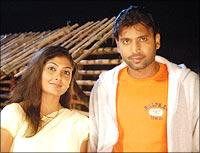 Sekhar takes the audience on a journey just like his protagonists Ram (Sumanth) and Seeta (Komalini Mukherjee) down the river Godavari. He takes us to pristine locales like Paapikondalu -- unexploited territory in Telugu cinema. With each picture-postcard frame, he creates visual poetry, aided by director of photography Vijay Kumar. The music is another highlight. Never mind the Anand hangover, K M Radhakrishna has scored melodious stuff with a predominant classical touch. The film's lead pair only enhances this with excellent, subtle performances.
All characters (be it the second lead pair Kamal Kamaraju and Neetu Chandra, or Tanikella Bharani) have well-etched parts to play. There's a bit of everything in small doses that keeps your eyes fixed to the big screen - action, romance, locales, and acting. Sekhar weaves his message subtly and deftly through some good punch lines. Shooting on the river in boats is noeasy task, but the director appears to have managed it with ease.
Godavari scores on all fronts and is worth a watch.