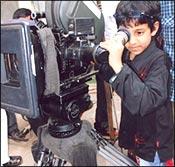 On the sets, he is the boss, checking out camera angles, telling off the sound technicians and coaching his actors on expressions. But it is only when Kishan takes off his director's cap that one realises that he is like any nine-year-old boy.
This child prodigy, who is directing his first Kannada film C/o Footpath -- the story of a orphaned boy who wants to go to school -- has convinced Bollywood veterans like Jackie Shroff and Saurabh Shukla, and National Award-winning actress Thaara to act in his project.
"He is such a genius that I had to work in his film," Jackie says. "He is constantly thinking about his next shot, constantly innovating to make it better. He is only nine years old, but he is sure about what he wants from his actors."
| | |
| --- | --- |
| | More on rediff.com! |
| | |
Taking a break from his hectic schedule at the sets of his film in suburban Mumbai, Kishan says he has no fear of direction. He prefers it to acting.
He has acted in more than 20 Kannada films.
"I prefer directing to acting because of the creativity it affords me. From the beginning, I used to ask my directors about the technical aspects of the film, and hound the cameramen to show me their art. I want to continue directing and have already finalised the script for my next film, which will be a Hindi film," he says.
C/o Footpath is almost 80 per cent complete and will be ready for release by April this year. It will be dubbed in Oriya, Tamil, Bengali, Malayalam and Hindi.
"I used to act regularly in films, but was very interested in directing. One day, my father and me were travelling when we saw some street children begging. I told him I wanted to do something for them, and wrote this story. My friends read the script and suggested that I direct it and that my mother should produce the film," Kishan adds.
His father, who is a sales tax officer in Bangalore, says he received many offers from producers to finance this film, but they decided to keep it in the family since "we knew it would be a blockbuster".
Kishan is not deterred by his age, saying he does not find it difficult to get work done from actors and technicians more than twice his age. "They listen to me, so I don't find it difficult to run the show on the sets. They treat me like any other director," he says.
Kishan has also written to the Guinness Book of World Records for a record as the world's youngest film director.
Photograph: Pradeep Bandekar