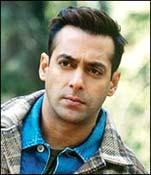 Bollywood is in shock. The entire film fraternity is overwhelmed by the news that Salman Khan has been sentenced to a year's imprisonment for an eight-year old case.
Salman was sentenced after he allegedly killed two chinkaras, a kind of deer, while shooting for the film Hum Saath Saath Hain in 1998. He was one of the accused -- with other actors like Sonali Bendre, Saif Ali Khan, Tabu, Neelam and Satish Shah -- who participated in the hunting. The others have been acquitted.
"This is ridiculous. There were other actors too, but I don't understand why Salman alone was targeted. How come the others were acquitted while he alone was sentenced? Was it written on the bullet that killed those blackbuck that Salman had fired the shot?" wonders producer-director Ravi Chopra, who is directing Baabul with Salman, Amitabh Bachchan and Rani Mukherji.
The film is to be released in June, but Chopra believes it will now be postponed. "I think I will have to push it to a September release," he says.
Salman has found himself in worse situations in the past. He was sentenced to 17 days imprisonment in late 2002 after he allegedly killed a pavement dweller in a drunken driving case. This is a charge Salman denied, saying he was not driving the car at the time the accident occurred. He is already on bail for that case, currently in progress in the lower courts. 
Special: Salman Khan, controversy's child
Late last year, fed up of his victimisation and having to attend court hearings constantly, Salman stated in court: "If you want to punish me, do it as soon as possible, because I don't want to go through this ordeal all the time."
Another Salman director, Rumi Jaffery of God Tussi Great Ho, is also in shock. "I cannot believe this," he says, too taken aback to react. He is, however, confident that Salman will come out clean and that the higher courts will grant him bail. "In my heart, I know he is innocent. He will bounce back," says Jaffery. Ravi Chopra too is confident Salman will walk out clean.
Most critics had written off Salman after the drunken driving case, but his Tere Naam was one of the biggest hits of 2003. 2005 also saw him reign at the box office, with hits like No Entry, Maine Pyaar Kyon Kiya, and Lucky, among others. The actor is working on close to a dozen films in 2006 and 2007, and an amount of Rs 150 crore rides on him in the market. His big upcoming projects include Jaan-e-man, God Tussi Great Ho, Salaam-E-Ishq and his first Hollywood venture, Marigold.
"I don't understand one thing: Why is Salman always made a scapegoat? It is time we left him alone to lead a peaceful life," concludes Chopra.