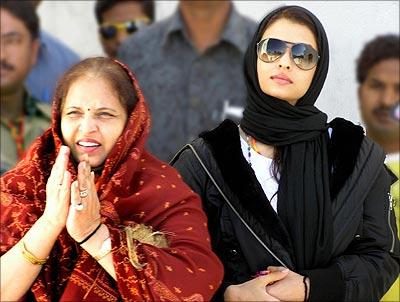 Aishwarya Rai paid obeisance at the tomb of Sufi saint Khawaja Moinudeen Chisti in Ajmer, Rajasthan.
Her entry into the dargah went largely unnoticed. Clad in black jeans, a shirt and a scarf and accompanied by her mother Vrinda Rai, she offered a chadar at the saint's tomb.
She was at the dargah for about 10 minutes before leaving for Pushkar, about 10 km from Ajmer, to offer prayers at the Brahma temple.
As she came out from the Brahma temple, a large crowd surrounded her for a glimpse but policemen pushed them away, a senior police official said.
Ash parried questions from reporters about her relationship with Abhishek Bachchan. Turning towards the temple, she said, "Whatever city I visit, I go to temples or religious places for prayers."
The actress is currently in Rajasthan shooting for Ashutosh Gowarikar's Jodha-Akbar, with Hrithik Roshan.
Photograph: Getty Images