You may not recognise the name of Shivam Nair, who makes his directorial debut with Ahista Ahista this week. But Nair is well-known and admired in the industry, thanks to his 12 years of work in television.
Nair worked on TV serials as an editor and director before the film bug bit him.
Actually, no. The film bug bit him a long time ago when he wrote a letter to director Shyam Benegal, while still a student. "I asked Mr Benegal if I could assist him. He replied to my letter insisting that I first complete my studies and then join a film institute to gain knowledge about filmmaking. I still have that letter. My financial constraints did not allow me to do so. I came to Mumbai and tried to meet him in vain," Shivam says.
The wait is finally over, and Shivam has directed Abhay Deol and Soha Ali Khan in Ahista Ahista. He talks about his film:
Tell us about yourself.
I was born in Kerala and studied there till Standard 5. Then, our family shifted to the Palamau district in Bihar (now Jharkhand).
After I completed my studies, I moved to Mumbai. I stayed as a paying guest at the railway quarters in Bandra (a Mumbai suburb) for a year. I had to pay Rs 100 for a month but I could not afford even that. There have been days when there was nothing to eat. 
Then I worked as an assistant to Sawan Kumar in Souten. However, three days into the shoot, I realised I did not fit in that setup. I quit. I was very confused about how I would adjust in the film industry. I had no clarity of what I wanted to do.
After that, I assisted on a Bhojpuri film shot in Uttar Pradesh and then a Konkani film in Goa. I was a clap boy. But I would write constantly. There was no creative training as such. I learnt by observing how shots were taken. It's with these films that I gained confidence to work in the industry. Initially, I was paid a negligible amount. But the priority then was to learn and not earn.
The real work journey started after this. A lot of people come to Mumbai to become actors or directors but they do not know where to start from. I was one of them. I did not even know how a shot is taken or how the camera works and I wanted to be a director!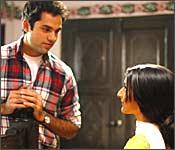 Why did you want to be a director?
I wanted to be an actor in school. When I realised I couldn't be one, I decided to become a director. Back then, everything was just a dream.
How did television happen? What have you done so far?
After working on Bhojpuri and Konkani films, I started getting work in television. I joined Media Classics in Andheri (a Mumbai suburb). They had an editing studio and made serials. For the first three years, I worked as an executive producer in Gujarati and Marathi serials. The first serial I worked on was a Marathi serial called Gotiyan. I learnt editing there too.
My first editing assignment was in 1991 with director Sriram Raghavan [who later made Ek Hasina Thi]. We made a docu-drama based on serial killer Raman Raghav, who was active in 1968 in Mumbai. Raman Raghav was convicted and died a natural death in jail. I learnt a lot during the shoot. I spoke to the producer about my interest to direct such documentaries.
That's when I started direction along with editing.
I directed, edited and was the executive producer for a docu-drama on a serial killer called Auto Narayan in Chennai. It was written by Anurag Kashyap. It was Anurag's first screenplay after which he went on to write Satya for Ram Gopal Varma.  
Two docu-dramas on killers Billa-Ranga and Firoz Daruwala followed.
Who were your contemporaries? How did you survive and grow in the industry?
Writer Abbas Tyrewala, writer-director Anurag Kashyap, Sriram Raghavan and I started our careers at Media Classics.
Till then, I had seen only Hindi films. I started watching international movies with them. We used to sit in the basement and watch at least three films a day, discuss the shots and stories.
I worked there for seven years. The four docu-dramas that we made were appreciated and we started getting work outside.
After leaving the production house, I directed Sea Hawks with UTV Productions. It was aired on DD2. Madhavan starred in it. I had taken over from Anubhav Sinha (director, Dus) who was first directing the serial.
This was followed by Ankahee for Zee TV, which got the Indian Television award. I directed a horror story called Rooh for Zee TV, which won the RAPA award for the Best Suspense Thriller in 2005.
Then, I did 10 episodic thriller stories of Saturday Suspense for Zee TV. I have also directed music videos.
Then the trend of daily soaps started in which creative control rests with the channel. When it started interfering with my creativity, I did not want to continue.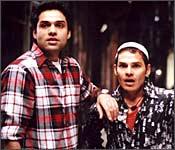 So when did you first think about making a movie?
About four years ago. My genre was thriller, supernatural and adventure but my story ideas did not work out with production houses. Due to creative differences, nothing materialised for a long time. I was signed to direct a film by producer Jhamu Sughand. But two of his films were stuck so our project got shelved.
I did not get any opportunity to make films, and I did not know whom to meet or how to go about things. Then, my friends at Media Classics started getting films and we exchanged information and helped each other out.
Was there no competition?
Our group had a healthy relationship. Like, Imtiaz Ali is a director himself. But he trusted me to direct his script. And now Anurag is writing for my next film. It works like that…
I had never done a story on relationships. When Imtiaz came up with the idea, I liked it and immediately agreed to do it.
What is the difference between working in television and films?
There are technical differences like the way camera lenses are used. On the big screen, things are larger than life.The best medium to tell a story is through films.
Did you have problem finding a producer for this film?
Not so much. I knew producer Anjum Rizwi [who produced Charas earlier] who wanted to start a film. I showed him the script, he liked it, and we began casting.
Why did you choose Abhay Deol and Soha Ali Khan?
When we signed Soha, Rang De Basanti had not yet released.
For me, both were relatively fresh actors. I was doing a film on relationships and it was important to have the actors in my control. It's not a style based role. It is performance based. We know Abhay for some time and shared a good rapport with him. The character suited him best so we cast him. Besides, we did not have a budget for big stars.
When did you start shooting? Tell us your experiences.
We started shooting on November 30, 2005. Before that, we did a 10-day workshop with actors for voice modulation and body language.
On the first day of the shoot, there was a lot of excitement, confusion and fear. I tried to better myself while directing each shot. I had done thrillers, supernatural and adventure, so doing a movie on relationships was very challenging for me.
We started with Abhay and Soha's scene. Soha had run away from her village to the city court in a wedding dress to get married to her lover [played by Shayan Munshi], who does not turn up.
The film was shot in Ranikhet and Almora in Nainital, Delhi, Agriculture College in Pune and Lonavala.
Actor Kamini Khanna has a fear of heights and we had to shoot a scene on a makeshift terrace with the Jama Masjid as backdrop. The shooting got over in an hour and a half but it took us more than four hours to bring her down. She was crying like a baby. For the crowd gathered, this became more entertaining than the shoot!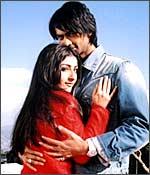 What is your film about?
Ahista Ahista is inspired from a real-life incident. Something like this happened with a friend of Imtiaz in Kolkata.
The story is woven around an aimless Ankush (Abhay) who earns a living by acting as a witness in Delhi's marriage registrar bureau, and Megha (Soha), who has run away from her home in Nainital to get married.
When her lover does not turn up, Ankush stands by her, and helps her get a job. As time passes, she realises there is more to life than having a boyfriend and getting married.
How was it working with Soha?
Soha had to shoot in cotton salwar kurtas and the crew was all wrapped in winter wear. She used to go completely blue.
We had also told Soha to play down the confidence in her eyes as the character she is playing is that of a small town girl, who is lost in the city. Her eyes are a great asset.
Shayan has been in a controversy over the Jessica Lal case. Why did you decide to cast him?
We did not think about that. He was good for the role he played, and co-operated well.
Did you ever feel that by casting him, you may get negative publicity?
He does not have that important a role in the film. Abhay is playing the lead. If something happened with Abhay, then the film would have suffered.
What was the controversy regarding music director Himesh Reshammiya?
There were some date issues. Himesh wanted to shoot the video before the film shooting got over. That was not possible as ours is a small budget film and we had to finish shooting within the dates the artists had agreed to.
But we worked that out and he has sung about four songs in the album and two in the film.
After Ahista Ahista…
I have signed two films for Shemaroo productions [who presented Omkara]. It is a thriller, written by Anurag Kashyap. It will go on the floors by December.
After that, there is Jailbreak written by Saket Choudhary [director of Pyaar Ke Side Effects].