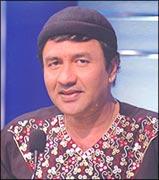 Anu Malik has a history of saying what's on his mind. One of Bollywood's top music composers speaks to Patcy N about Indian Idol, changing trends in the industry and why he has decided to sign contracts before composing music…
Who do you think the next Indian Idol will be?
According to me, Karunya is the better singer. But luck favours the brave and I find Sandeep very brave. He has a charming personality. Things can go against Karunya because of his confidence. I still feel Amey Date had a chance. Audiences are the deciding power though. They should select a proper candidate, as they have to live with the Indian Idol.
| | |
| --- | --- |
| | More on rediff.com! |
| | |
Why do you think girls don't make it to the finals?
When Indian Idol 2 started, I believed we would have a female idol this time. Unfortunately, that didn't happen and it is really funny. Women are ruling in every sector, so why not in music? It's all about the audience. How can Monali, Meenal, Neha or Antara not get astounding votes? Strangely, somewhere down the line, we still feel boys should be given first preference.
 'Karunya's been a find, like Abhijeet Sawant'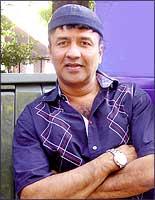 Do you think too many winners from contests will flood the market?
There is always room for talent. Talent sticks out like a sore thumb. India is a huge country with so much talent. We Indians have one problem though. Something suddenly excites us, and then we suddenly lose interest. Reality shows give you instant fame. Otherwise who knew Karunya, Abhijeet Sawant or Rahul Vaidya? When we were struggling to come up in life, we knocked at the doors of producers for months. We had to plead to them to listen to us. If we have new talent coming in, existing talent too will be on their toes. I look at it positively.
But isn't it bad to offer everything on a platter?
Finally, if you give something on a platter, they have to retain it too. If they get it on a platter, it doesn't mean they will be stars forever. I have been working for more then 25 years. Still, on the day of an audio release, I get nervous. The media decides who is good and who is bad. People go against the media, but I am very happy. I feel it is one of the best watchdogs of society today. When the media criticises me, it helps me work harder.
Anuj says bye to Indian Idol 2
Is there any change in musical trends at the moment? Movies seem to have changed drastically.
Things have changed, music formation has changed and ideas have changed. We can't compare this generation to earlier ones. Change is necessary. Things are very progressive now. We are in a renaissance period -- the most creative phase. Look at technology and sound production -- it has changed drastically. Therefore, we have remixes, but they should be done aesthetically. In fact, every composer and singer is trying to be different. When I look at my own music -- whether it is Soni Mahiwal, Baazigar or my music today -- haven't I grown? In the 1980s, we had four tracks. Now, we have 400! World music has arrived at our doorstep. My own music was taken for Moulin Rouge.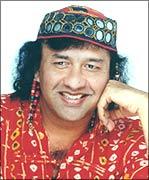 What is the success mantra for a song?
As far as I am concerned, the success of a song depends on various factors like melody, sound, good actors and some luck. But it is teamwork. Sometimes, good songs are not heard. At other times, you don't expect much from a song but it becomes a hit. For example, Asoka had good tracks but it didn't click. However, for me it was my best work. Songs from Judwa were funny, but I didn't consider them big hits.
How different is your music for Humko Deewana Kar Gaye?
It is very different. Bhula denge tumko sanam is my favourite. Rock star, For your eyes only and the title track have also been appreciated. But Fanah is becoming very popular too.
In the past, you had two music composers working on the same film. So why were you upset about Humko Deewana Kar Gaye?
What has happened in the past is over. This is the new Anu Malik. Now I will do all the songs. In the past, I didn't have contracts and people may have taken advantage of that. If somebody does something behind my back, I cannot do anything about it. But today, I have contracts and people cannot take advantage of me. I don't think two composers are necessary for any movie. It may be good for the film, but not for me. I have got a 25-year brand name. I don't want anyone to piggy bank on it. I have created music alone, unlike Shanker-Jaikishan or Anand-Milind. I always wanted to be known as Anu Malik. Why should I change? If anyone wants Anu Malik, they should sign a contract. I have no fights with any composer. Anyone will trample on you if you are not strong enough.
Why do you think so many music directors are singing today?
Everyone should sing. Even S D Burman and Panchamda sang beautifully. It does not affect the music. I have sung innumerable hit songs too. I do not think I would like to sing all my songs though. I understand the script and the situation, and if there is something that suits my voice, I request the director and sing it. I don't insist on singing. I need talented and professional singers.
You were the one who started the trend of albums by music directors. Now, many appear to be doing it.
People want to be seen more, that is the only reason composers are singing for albums. I don't blame the composers for singing. If they have a decent voice and want to sing and do shows, why not?
Tell us a little about your forthcoming work.
I have Pyare Mohan, Rockin, Umrao Jaan, Love Story 2050 and Maa Santoshi Maa lined up.