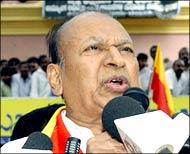 The last time I saw Dr Rajkumar was a few months ago. He and I were at the same place doing the same thing: eating masala dosas at one of Bangalore's old Udipi restaurants. My mother and I were eating in solemn silence, paying homage to the golden, crisp dosas.
I happened to look up once, and noticed that most of the waiters in this open-air eatery were hovering around a particular table some distance away. "Annavru bandidaare (Elder brother has come)," our waiter muttered, and scurried away to the revered table.
Ten minutes later, the group at that table got up quietly and moved towards their small car. There were four of them -Rajkumar in his trademark white dhoti and white shirt, his wife Parvathamma with her trademark big red bindi, his superstar son Shivaraj Kumar, and Shivaraj's wife Geetha, daughter of maverick politician and ex-Karnataka chief minister S Bangarappa.
Shivaraj, notwithstanding his star status, got behind the wheel of the car, as he normally does. Rajkumar paused outside the door, folded his hands in a graceful namaskara to all the waiters and a few bystanders and folded his slim body into the small car. The women got in silently and the foursome drove off.
That, essentially, was Rajkumar. A man who found joy in the small pleasures of life, right until the end. Who always showed respect for his fans, whom he described as abhimani devaru (fans who are God.) A man, who till the very end, seemed touchingly surprised by the great stardom that he enjoyed, and was most grateful for it.
After he returned from his jungle trip, so to speak, with Veerappan, Rajkumar would often stand on the street outside his fortress-like bungalow in Sadashivanagar, Bangalore's upmarket neighbourhood, just gazing at passersby. It seemed as if he had suddenly realised the sheer pleasure of freedom, of being able to walk out onto the street whenever you liked and just meet people.
He never lost the deep tan he acquired in the jungle. Or regained the health he lost there. Until then, Rajkumar was quite a fit man. His muscled body was on display in his movies, much as his young colleague Hrithik Roshan's, even after Rajkumar turned 60. His high level of fitness stood him in good stead in the forest, where he had to walk and run with Veerappan and his gang for many kilometers every day, for five months.
But on his return, you could see that the man was no longer the same. He himself pointed out that his already bad knees had got completely damaged by all the trekking, his skin had got permanently darkened and disfigured by all the insect bites and exposure.
After he returned, Rajkumar acknowledged that he would never make that last movie that he had promised his fans. My last sight of Rajkumar reminded me, for some strange reason, of my very first meeting with him. I was about 7 years old, and living in a gold mining township near Bangalore, where he had come to shoot for a movie. The film was the black and white social drama Swayamvara.
In this movie, Rajkumar plays a miner who gets falsely accused of a crime and sentenced to death. The heroine, a diehard spinster, then marries him to fulfill a condition of her father's will: she can only inherit some property after she gets married. But the real culprit confesses and Rajkumar is a free man, a situation the heroine gradually comes to terms with. I have a distinct visual memory, even now, of standing on a narrow tar-road watching Rajkumar walk past with a small group of extras, all dressed as miners. I was actually allowed to bunk school that day to witness this memorable event. When Rajkumar took a short break, I shyly and silently pushed my autograph book into his hands. "Yaava classu wodtha iddiya magu? (What class are you studying in, my child?") he asked me, in a very kind voice.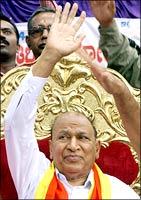 I was struck dumb and just shook my head mutely. He patted me on the head, wrote in my book and handed it back to me. The words he has written were, again, typically Rajkumar. They were "Nimma abhimani, Rajkumar (your fan, Rajkumar.)" I finally found my voice, saying "But I am your fan." "No, I am yours and everyone else's," he replied gently. This was the humility he tried his best to teach all his five children. And he seems to have succeeded. All three of his sons are film stars, and two of them immensely popular. But you will see them chatting with lightboys and sound technicians between shots, often with an arm around their shoulders.
Ten years later, I was walking along a road beside the Sankey Tank in my neighbourhood, and spotted Rajkumar sitting on a steel chair on the pavement. He was waiting between shots. We exchanged smiles, and I walked on.
Much later, I encountered him, on rare occasions, as a journalist. Rajkumar hardly ever spoke to the media. He only shared a few of his thoughts on special occasions, like when he came for the mahurat of one of his son's films. After he came back from the jungles, he spoke about his experiences as Veerappan's captive.
I only hope his children, his fans and those of us who ever encountered the man will imbibe some of his immense humility and appreciation of people.