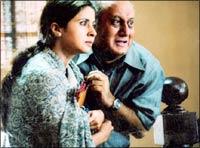 An old man stands at the feet of the vast sea. A loving daughter searches for answers in the magnanimity of its waves. A story unfolds through the confines of a cosy house.
The empty dining table waits to serve its inhabitants. A tall ladder that has seen various ups and downs. Open windows, flying curtains -- mute spectators to the increasing problems of a once happy family.

This is Uttam Chaudhry's (played by Anupam Kher) home. An acclaimed scholar of Hindi and now a retired professor, Chaudhry is a man of principles and values. He believes in the strength of courage and striving for success. You can sense his integrity when he fondly renders the lines of his favourite poem -- Himmat karne walon ki har nahi hoti (Those who try never lose).
The rapport he shares with his children -- Ronu (Rajat Kapur), Trisha (Urmila Matondkar), and Addy (Addy) -- is that of warmth, affection and respect. While Ronu is abroad chasing the American Dream and Addy enjoys the privileged existence of an average happy-go-lucky collegegoer, it is Trisha, an NGO worker, who takes after her father in character and heritage.

The normalcy of this seemingly happy nest is soon shattered. Professor Chaudhry suffers from frequent bouts of forgetfulness. What looked like a case of absent-mindedness before appears to be turning into a serious illness.

He forgets he has retired, and reaches college only to discover it's a chemistry lecture. He has a hard time coming to terms with the fact that it has been one and a half years since he lost his dear wife. He loses it altogether when Trisha's potential father-in-law places an ashtray and used teacup on a newspaper issue, which has Mahatma Gandhi's photograph.
 Maine Gandhi Ko Nahin Mara in pix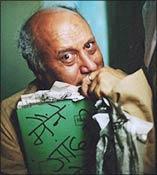 The professor's condition completely deteriorates and he starts blaming himself for being the man accidentally responsible for Gandhi's assassination. Obviously there cannot be any truth in his claims. On the ill-fated date, January 30, 1948, Chaudhry was only eight years old.

So what is his condition? Alzheimer's? Dementia? Schizophrenia? Scientific definitions offered are plenty, but the root cause of this sickness is much more deep-rooted than it appears. That's what makes Maine Gandhi Ko Nahin Mara such a superbly multilayered presentation.

Director Jahnu Barua shows us various facets of the tragedy. He explores the fear and uncertainty that a victim of this disease goes through. At the same time, he doesn't ignore the trauma and helplessness of a daughter fighting a losing battle or the cowardly attitude of the young brother who doesn't want to take responsibility and wants to send his father to a mental institution. The filmmaker shows a family dealing with an unusual situation without being judgemental about any of its characters.
'Gandhiji is relevant in today's times'
It also shows society's unacceptability and hypocritical attitude towards members of such families. Trisha's spineless boyfriend (Vishwaas Pandya), an NGO employee himself, deserts her to marry a girl of his parents' choice. The parents are concerned whether Trisha's father's condition is hereditary.

If on one hand it layers the ordeals faced by professor Chaudhry and Trisha, it is also a metaphoric play on the concept called Gandhi that holds little meaning to the common man today. Everyone is busy making money at the cost of conscience. Virtues like honesty, non-violence, tolerance -- that were once the hallmark of strong moral fibre -- are mere feel-good words now. How did Gandhi fade away? How did the Father Of The Nation get reduced to just a road, a stamp, and a statue? 'You remember me only on two days, October 2 and January 30,' cries Chaudhry on behalf of his beloved leader. Maine Gandhi Ko Nahi Maara raises these questions and more.

The tenderness and poignancy in Barua's treatment is reminiscent of Richard Eyre's Iris, which was based on the true story of the English author Iris Murdoch and her wonderful relationship with her husband John Bayley as she dealt with the terrifying Alzheimer's disease.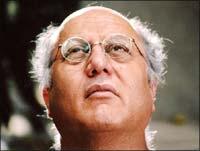 If Dame Judi Dench was fabulous as the unfortunate Iris, Anupam Kher is nothing short of brilliant. His portrayal deserves applause in superlatives. There is nothing made-up about his performance. Restrained with sensitivity and awed with a guilt-ridden past, Kher gives complex dimensions to professor Chaudhry. And thank god, Kher and not NFDC, the original choice, produced this movie. He gives Barua the canvas the film undoubtedly deserved.

Urmila Matondkar isn't far behind. Her credibility as a versatile actress is further established in her reserved albeit realistic delivery of emotions. Rajat Kapur and Addy lend conviction to their parts. Even in brief roles, Samir Soni (as the doctor), Boman Irani and Waheeda Rehman leave a graceful impression.

Technically, Maine Gandhi Ko Nahin Maara stands out for its flawless photography by Raaj A Chakarvarthy. The imagery of his shots have their own silent tale to tell. If you think Bappi Lahiri is all about disco, his soulful background score has the last laugh.

Dialogue and screenplay writer Sanjay Chauhan gets the heart of Barua's script just right. His meaningful dialogues make a point without being theatrical or overtly persuasive.

In the end, this reviewer wants to make two requests. One to the remarkable Barua: Please make more Hindi films. One to the Indian government: Please make this film tax-free.