Amol Palekar's Paheli has been chosen as India's entry to the Oscars this year. The film, starring Shah Rukh Khan and Rani Mukerji, has beaten the likes of  Mangal Pandey, Veer-Zaara, Iqbal, Swades, Parineeta, Page 3, Black, Hazaaron Khwaishein Aisi, Sachein (Tamil), Anniyan (Tamil), Uttarayan (Marathi), Achuvante Anna (Malayalam), Graham (Telugu), and Kadal (Tamil).
Vinod Pande, acting chairperson of the Film Federation of India, defends his choice.
Your Say: Is Paheli the right choice?
How could Paheli be nominated over more deserving films like Black?
The choice for the jury was extremely difficult. The films were of really high calibre. We had resolved that we would have discussions only after all the screenings. We had bargained for an hour's discussion but we discussed for an hour-and-a-half. We took into consideration every aspect (of the films).
All of us in the jury wrote down our recommendation. We were unanimous in the selection of Paheli.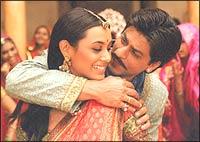 The decision to elect Paheli was unanimous?




Yes, absolutely. We feel this film is very high on cinematic excellence and directorial competence. It is deeply seeped in the Indian ethos and true to the Indian concept of fine arts, costumes and art designing. The performances were also outstanding.

 

I cannot tell you why
Black
was not elected. But let me tell you, it

 

was a

 

tough competitor. It was rejected outright by some jury members for being a

 

copy of a foreign source. But I

 

vehemently defended it. If a film is inspired by a true event, it doesn't mean there cannot be two versions of it. The jury understood

 

my point of view. Then

 

some jury members argued that

 
Black
was rejected by Cannes. I convinced them that our decision shouldn't be governed by

 

any international competition.
Was language the clinching factor against Black?
I wouldn't like to comment on that.
Was Paheli selected because it panders to the foreigner's view of Indian ethnicity?
Akeli Indian culture hi sab kuch nahin hoti [Indian culture is not the sole factor]. There was another beautiful film in the running called Uttarayan. You have to have a very composite look while selecting. We saw all the films.
But Paheli was neither a critical nor commercial success in India.
We weren't perturbed by that. We have seen some fine films in the past not getting their dues. When we did our job, we did it with a clean conscience. We had our own judgement and creative faculties to rely on. We are as capable of assessing as   any member of the press.
I insisted on a press conference because an afternoon paper carried a malicious article on the Oscar nominations hours before our decision was taken. How dare they talk like this? Three members of this year's jury, including me, were part of the jury that had elected Lagaan. The press owes us an apology. 
But someone like Harmesh Malhotra [chairperson, FFI, whose indisposition made Pande take up the job] hardly seems qualified to decide what goes to the Oscars.
Have you spoken to him ever? He is such a cogent, coherent speaker. When you have chosen someone, you have to look at his over-all competence.
But where does a man who made Nagina, Pathar Aur Payal and Ankhiyon Se Goli Mare show any aesthetic sense?
Bhaiya, ek business hoti hai, ek aesthetics hoti hai (Business is one thing, aesthetics is another). When he was in the jury, we should respect that. We should discuss films, not jury members.
Harmeshji wasn't there during the final decision. He fell ill. We were keen to have him but he requested me to assume the position of the acting chairperson. We were collectively and absolutely sure Paheli was the right decision.
How could Paheli compare with Black on any level? Look at Mr [Amitabh] Bachchan's performance in Black.


He's outstanding even in
Paheli.
He was assuming a completely new character. Let me repeat, it was a very tough competition. We had to

 

exercise caution about our judgement. We could not select a film that could be rejected later on at the Oscars.
When we send a film, we did not want it to be rejected on account of some legalese or loophole.
Black is not a copy of The Miracle Worker.
These are lobbies working. Finally, it's every individual jury member's subjective decision that determines the final decision.