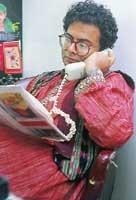 Rituparno Ghosh, one of the ace filmmakers of post-Satyajit Ray Bengal, is often referred to as an heir to the master. Critics have frequently pointed out unmistakable reflections of Ray in his works (remember the swing scene and opera glasses in Chokher Bali?). Such 'influences' are but natural and spontaneous reactions emerging from a filmmaker who grew up on Ray's masterpieces.
Ghosh is one of the few Bengali directors who have dared to look beyond the land of Tagore. Considered an adventurer, he has entered Bollywood and gone so far as to cast Aishwarya Rai in lead roles -- Chokher Bali in Bengali (2003) and Raincoat in Hindi (2004).
Ghosh's career took off with Hirer Angti in 1992. His ascent began in 1994 with Unishe April  and in a decade, the director has got himself into a place where Bollywood's biggies are willing to gamble on his creative genius.
Ask him about it and the director instantly puts on a modest cap, "It will be a mistake to think that Bollywood actors started working for Tollywood directors [the epithet for the Bengali film industry] with my films alone."
The director then goes on to narrate bit of history. "The process started way back in 1962 with Ray roping in Waheeda Rahman for Abhijan in 1962 and Simi Garewal for Aranyer Dinratri in 1969. All these years, Sharmila Tagore, one of the popular actresses of Bollywood, has been appearing regularly in Ray films. The master's work with Bollywood actors came a full circle with Shatranj ke Khiladi (1997) and Sadgati (1981)," he says.
"Ray's descendants have been carrying on with the tradition. Buddhadev Dasgupta made Andhi Gali in 1984 with Kulbhushan Kharbanda and Deepti Naval. Gautam Ghosh rocked the world of films with Paar (1985) starring Naseeruddin Shah, Shabana Azmi and Om Puri. Gautam Ghosh had a repeat when he cast Tabu in Abar Aranye in 2003," he adds.
The director also mentions his films Titli (2002) starring Mithun Chakraborty and Shubho Mahurat starring Sharmila Tagore, Rakhi Gulzar and Nandita Das (2003).
But he admits that the "inclusion of Ash indeed lent a special dimension to Bengali films."

The filmmaker cannot help being grateful to a resurgence that has enabled him and many of his colleagues to look beyond boundaries.
"Economically speaking, Tollywood has started looking up for the past few years paving the way for more experimentation. Moreover, with the emergence of national stars like Konkona Sen Sharma, Bengal has carved out a niche for itself in the world of films."
At present, Ghosh is busy with the release of Antar Mahal, starring Abhishek Bachchan and Soha Ali Khan. The film is expected to release by October end. 
His next project with be a remake of Guru Dutt's Saheb Bibi Aur Ghulam, based on the Bimal Mitra classic. Though he is unwilling to give away the cast, the industry is rife with rumours that Priyanka Chopra will play Chotti Malkin, the pivotal youngest daughter-in-law of the landlord family, a role which Meena Kumari played to perfection in the 1962-classic.
Known as an expert with relationships, one looks forward to Ghosh's depiction of this riveting tale of zamindars as also his portrayal of Chotti Malkin. "It is the simple yet intriguing nature of Pateshwari [Chotti Malkin] that attracts me the most," he says. "The Bimal Mitra classic has always been a favourite of mine. It's a great opportunity for me to make a film on it."
Incidentally, Ghosh directed the same for the small screen with Raveena Tandon playing Chotti Malkin. The serial did not do as well. "It's a misconception that I was directly involved with the small-screen version of the film," Ghosh says. "I lent it passive assistance. But I was impressed by Raveena's commitment."
A Bengali to the core, Ghosh takes pride in Tollywood and names that make it. Pooh-poohing claims that Tollywood is less professional than its western counterpart, the director says, "It's a myth. Shooting of Raincoat was completed in 17 days after which Ajay [Devgan] had expressed surprise as to why sceptics point a finger at Tollywood's professionalism. As for Antar Mahal too, there was no delay, no clash of dates. In fact, we let Abhishek go ahead of schedule. Professionalism depends on who you are working with and how."