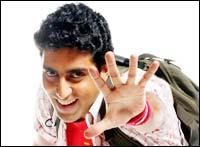 It seems you can't switch on the television these days without getting an eyeful of Abhishek Bachchan -- what with promotional trailers of three of his forthcoming films clogging the airwaves.

In Yash Raj Films' Bunty Aur Babli, the Young B shows off a gamut of disguises and expressions as a small-town con man. In Ram Gopal Varma's Sarkar, the scene seems set for his first heavy-duty encounter with his redoubtable father Amitabh. And in Anubhav Sinha's Dus, he is showcased as a testosterone-fuelled car-bike-babe dude.

Abhishek has already been booked by Karan Johar for his next, Kabhie Alvida Na Kehna (alongside Shah Rukh Khan) and Aditya Chopra for his sequel to Dhoom, which was Abhishek's first and only hit so far.

Not bad for a young actor who has spent most of the new millennium flailing around and trying to keep his head above water after consistent wipeouts at the box-office.

Not so long ago, Abhishek came under fire for several things -- flops, his clothes, hairstyle to his weight -- as he struggled to come out of the lengthy shadow cast by his superstar father, Amitabh Bachchan.

| | |
| --- | --- |
| Year | Film |
|  2000 | Refugee |
|  2003 | Main Prem Ki  Deewani Hoon |
|  2004 | Yuva |
|  2004 | Dhoom |
|  2004 | Phir Milenge |
Today it's a new, confident Abhishek who strides across the filmi firmament confident that his friends like his understated sex appeal and his ability to mix intensity with a relaxed air.
He has bagged the Filmfare Best Supporting Actor Award for his searing performance in Mani Ratnam's Yuva. He has found commercial acceptance with Dhoom. And he is being consistently spoken of as the most eligible bachelor in films, with constant speculation about his relationships with Preity Zinta, Rani Mukerji and Dipannita Sharma.
Urmila Matondkar, who has worked with the best and should know, puts it succinctly: "Now, Abhishek Bachchan is a rock star."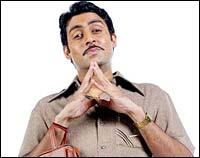 Though many people still see Abhishek as on the threshold of true stardom, what is amazing is the ground he has covered in the last few years.

He began his career under a cloud in 2000 with three films that failed to make a killing at the box-office -- Refugee, Tera Jadoo Chal Gaya and Dhai Akshar Prem Ke. Today, his friends feel he was too young when he joined films. Abhishek was barely 22 in 1998 when J P Dutta announced Aakhri Moghul with him and Dilip Kumar.
This shelved film, which paved the way for Refugee, was to be Bipasha Basu's debut flick.
Abhishek, who studied in Switzerland and the US, remembers himself as a young man bitten by the acting bug. He grew up interacting with children of people like Ramesh Behl (best buddy Goldie Behl), Rakesh Roshan and Yash Chopra.
Though his first film Refugee did not catapult him to great heights, the film industry continued to give him chances as they had done with star sons like Bobby Deol before him, who had also not begun with a blockbuster.
Abhishek was paired with heroines like Aishwarya Rai (Kucch Na Kaho) and Rani Mukerjee (Bas Itna Sa Khwab Hai), but success continued to elude him through the next three years.

It was in a cameo role in the Sooraj Barjatya misfire, Main Prem Ki Dewaani Hoon (2003), that Abhishek sprung a surprise. As the shy suitor, his performance was refreshingly heartfelt.

Abhishek Bachchan's famous songs

 Song

 Film

Singers

Panchhi nadiya pawan ke jhoke

 Refugee

Sonu Nigam, Alka Yagnik

Yeh hawayein

 Bas Itna Sa Khwaab Hai

Shaan, Alka Yagnik

Kasam ki kasam

 Main Prem Ki Deewani Hoon

Shaan, Chitra

One Love

 Rakth

Shaan

Shikdoom

 Dhoom

Shaan, Shreya Ghosal
His control over his body language served Abhishek well while playing the layered goon Lallan Singh in Yuva (2004).
Abhishek got under the skin of his character: Roughened by life, angst-filled at being a political cat's paw, and its spillover, his abusive relationship with his wife, played by Rani Mukerjee.
Though the film was not a commercial success, the critics were ecstatic about Abhishek. Commercial validation came just three months later in the same year when his action-thriller Dhoom succeeded at the turnstiles.
Abhishek was finally a star.
Today, though he has several multistarrer films on hand, his role as the scamster in Bunty Aur Babli is particularly significant. The film rides on his name and could take him to the next level of stardom.
Also, after go-nowhere attempts to pair the father and son duo together (Mahesh Manjrekar's Kutumbh and Rajkumar Santoshi's Ranveer), it will also be the first time the Bachchans will be interacting on the movie screen.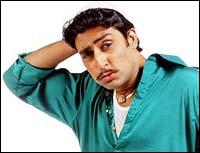 Through all his lows -- the flops, the much written-about break-up with Karisma Kapoor, the financial troubles that threatened to engulf his dad -- this Aquarian has kept his sense of humour. Friends and co-stars repeatedly point to his pranks and his conviviality on the sets.
Abhishek's recent outing on the Koffee With Karan show -- where he insisted that the Amitabh-smitten Mallika Sherawat should also give him a second look -- reveals that the Bachchan penchant for quips hasn't skipped a generation.

Abhishek's amiability has given him another rare distinction: of being an actor with fellow actors as supporters. He is close to Sanjay Dutt, Ajay Devgan and Suneil Shetty.
Abhishek's ultimate hero is, of course, his dad. Perhaps at a subconscious level, he has also gleaned much from his dad's polished manner of speaking and his public restraint.
"The first time I saw my dad cry was at my sister's wedding," he says. "I too can't reveal my emotions in public."

But Abhishek has obviously got used to baring his soul onscreen -- whether it is for art house filmmaker Rituparno Ghosh's Bengali film, Antar Mahal, or Shaad Ali Sahgal's mainstream masala mix, Bunty Aur Babli.
The slow starter has finally gone into overdrive.