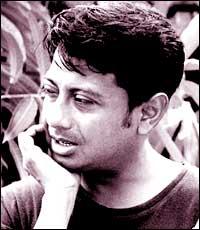 O
nir, or Onirban as his birth certificate reads, is probably the most unassuming director you can come across. In a black T-shirt and faded jeans, he's easy to miss, especially at a suburban Mumbai café, where Bollywood wannabes are a dime a dozen.
But talk films with him and you will know appearances can be deceptive.
Presenting the co-producer-writer-director-editor of
My Brother... Nikhil
that releases this Friday, March 25, in conversation with
Vishal D'souza
.
Tell us about yourself.
I was born and brought up in Bhutan but I graduated from Kolkata University in English Literature. I also did courses on film appreciation.
I was awarded a scholarship to study films in Berlin. Since I got back about eight years ago, I've been working in Mumbai, as an editor and director of a number of corporate videos, serials and music videos. Everything I've ever done was to realise my dream of turning director some day.
| | |
| --- | --- |
| | More on rediff.com! |
| | |
How did My Brother... Nikhil come to be?

About four years ago, I decided I would begin to work dedicatedly on my own feature.
I had met Sanjay (
Suri
), now a close friend, through the profession. He was excited about my ideas and egged me on to meet producers. I met some of them through contacts that I had established in the industry.
But all of them wanted stars or changes in the script. I was not one to run after stars or desperate enough to allow unreasonable changes in the script. That period was quite frustrating.
Sanjay suggested we try something ourselves. He roped in Raj Kaushal and Vicky Tejwani to join us, so Four Front was formed.
My Brother... Nikhil
came into being originally as a digital film.
I began scripting in April, 2004, commenced shooting in August and now, the film is ready for release. Being a small budget film, you do most of the stuff yourself. So apart from writing and directing, I've also edited and worked on the trailers and promos.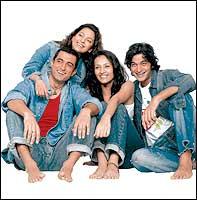 Where did you draw inspiration for your plot?
When I was working with Plus channel, I remember editing a documentary about the first HIV positive cases that were located in Goa in 1985 and how they were treated. These people were arrested and kept in isolation by the laws of the state. It was similar in other states too. Then, a huge movement began that eventually changed the law and the social treatment of HIV patients.
That story remained with me for eight years and it forms the backdrop of
My Brother... Nikhil
.
I did not want to make a documentary or biographical film because that's over and done with once the person ceases to be. I wanted to use this backdrop as a canvas for a more colourful drama on relationships.
So I fictionalised it, made my protagonist a successful, popular swimming champion and used him to show how relationships change. Relationships that we take for granted but which are so fragile. It's also about dealing with the loss of a dear one.
I realised that if I was to share something about myself, the closest person I'd trust would be my sister. That's how the story reveals itself, through the eyes of the sister. And therefore the title,
My Brother... Nikhil
.
Tell us about your ensemble cast and crew.
I visualise the tiniest of details of the characters and the setting as I am writing, so everything is etched out clearly and I had cast people even while I was scripting.
Sanjay was always part of the story.
Juhi Chawla's presence lights up the screen. There's a certain warmth about her. It was Juhi's 77th film, so I was a little apprehensive when it came to her. But before the shoot, she'd always want me to tell her what I expected from her, how I'd want her to deliver. She was open to ideas and even when she didn't think I was doing the right thing, she let me have my way because she trusted my vision.
It was a dream to cast Victor Banerjee; growing up on his films in Kolkata. I sent him the script while he was in Mussoorie [
in Uttaranchal
] and he called back to say that he was going to do the film. It was my happiest day.
Lilette Dubey was again someone I wanted to work with.
I had edited a few serials of Hip Hip Hurray and when casting for Nikhil's friend, Purab came to mind as I needed someone with a soft look.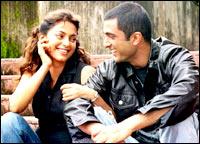 Apart from my cast, what has made the film special to me is the involvement of the crew. No one came aboard for the money and that has lent a certain beauty to the film because they were doing it for the love of the craft.

Many have not taken on another project for months. Though we finished shooting in December, my cinematographer just can't disconnect himself from the film.

Friends from the industry came forth to help out. Sujoy Ghosh, who directed Jhankar Beats, came in to do a cameo. So, in many ways, I was blessed.

How did Yash Raj films get involved in the project?

I was thrilled when Yash Raj came on board to distribute this film nationally because it gave the film a platform that it deserves.

This is not a festival film and though its target audience is primarily urban, I'm hoping the trickle down effect will come into play.

Sanjay is a good friend of Karan Johar, an icon in mainstream commercial Indian cinema, who was one of the first people to have seen the rough edit of the film.

I remember waiting anxiously outside the edit room. I must have smoked at least 20 cigarettes, I was so nervous. But he came out and congratulated me and said that he was so moved during the last 20 minutes he cried.

He immediately called Adi (Aditya Chopra) and recommended the film to him. Adi saw the film on VHS and the next day, he agreed to distribute the film nationally. In that sense, people have come forward to help the film and having a Yash Raj banner backing the film gives it reach and respectability no one else could offer us.

What next?

I have four other scripts ready that I would like to make into films. But the past nine months have been like a pregnancy and we're ready for delivery this Friday. For now, I just want to sit back and enjoy fatherhood!