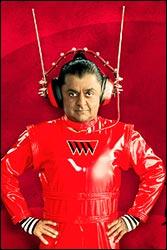 For over two decades, Deep Roy has acted in more than 20 films and television shows, playing a string of small roles. But with the latest Tim Burton film, Charlie And The Chocolate Factory, the London-based Roy gets his biggest part.
He got the maximum applause during several screenings in New York last week.

Appearing about 20 minutes into the film, Roy is seen practically in every frame of the film, sharing many scenes with Willy Wonka, the eccentric chocolatier, played by Johnny Depp. Roy also dances to the film's numbers, including a piece that composer Danny Elfman admits was 'inspired by big brassy Bollywood production pieces.'

Nairobi-born Roy stars as an entire community of Oompa-Loompas, the mysterious chocolate factory's impish workforce in the film based on Roald Dahl's international bestseller. Rescued by Willy Wonka from their endangered and harsh life in Loompaland, the Oompa-Loompas work inside the walls of the secluded factory feasting on their favourite: cocoa beans.

A dark but endearing fable about Wonka and his encounters with five children (four of them utterly nasty) that leads him to re-examine his life, Charlie And The Chocolate Factory is one of this summer's biggest films.

The film also stars Nitin Ganatra (the obstreperous and silly non-resident Indian in Bride And Prejudice) in a small role as Prince Pondicherry, who orders a chocolate palace be built for him.
The cast includes Freddie Highmore as the sensible boy who dares to spurn materialism, and a number of veteran actors such as Helena Bonham Carter. And of course, Johnny Depp looks like a better version of Michael Jackson.

But Roy is the scene stealer.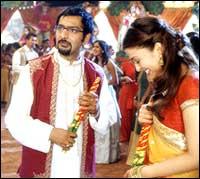 Having worked with Burton in Big Fish and Planet Of The Apes, Roy says he was thrilled to be part of the new film but he had no idea initially that he would be all over the film.
 The actor, who has appeared in such films as The Haunted Mansion, The Empire Strikes Back, The Return Of The Jedi and Pink Panther Strikes Back, says when Tim mentioned the role, he said there will be only one Oompa-Loompa and that he will create hundreds from one performance.

Few weeks later, Burton wanted about five close-ups.

Slowly the numbers increased. "In the end, I was producing movements for over 40 Oompa-Loompas," Roy continues. He gets the eight billing in the movie's credits, and in the posters and billboards his name is prominent.
Computers were of course needed for the scenes, Roy notes. "It is all computer-generated," he explains. "If you see 20
Oompas, I did all 20 performances. If a scene called for numerous Oompas to join in a narrative song and dance, I would perform the steps for all of them with subtle distinctions of expression and movement. When the images were joined with the help of a computer, I became an entire troupe."

"I think of it as doing 19 or 40 second takes," he says. For over three months, he underwent extensive training for the roles. That included dance lessons.

"The most challenging part was trying to remember my position from one performance to the  next, counting in my head and remembering at what point to turn or where to look," he explains. "It was a lot of rehearsing."

But he found the challenge so interesting and fulfilling, he is wondering if there could be a sequel to the film.