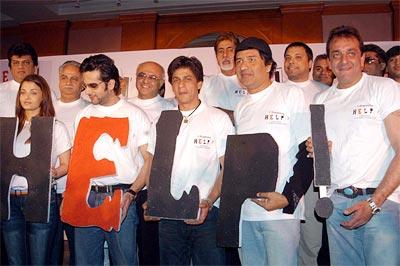 The Film and Television Producers Guild and the Film and Television artists have come together to do their bit for the Tsunami victims. A telethon – HELP! Telethon Concert — has been organized at Mumbai on February 6.
Apart from the telethon, a concert featuring over 200 Indian and Pakistani artists will also be held February 6 at the BMRDA Grounds Bandra-Kurla Complex, Mumbai. The simulcast of this will be on February 12, 2005.
Among those who form this impressive line up include the Khans - Shah Rukh, Aamir, Saif, Fardeen & Zayed, the Bachchans - Amitabh & Abhishek, the Deols - Sunny, Bobby, and kid sister Esha, the Shettys - Suneil and Shilpa,  plus Aishwarya Rai, AR Rehman, Sunjay Dutt, Preity Zinta and Rani Mukherjee, among others.
Record label T-Series will release a single composed by Anu Malik. The single will feature a plethora of singers across Bollywood — including Alka Yagnik, Hariharan, Abhijeet Sunidhi Chauhan and Shaan.
Announcing this at a star-studded press conference at the J W Mariott Hotel, Mumbai, Amit Khanna, President of the Guild, said " It is for the first time that a truly wholistic integrated effort is being organized anywhere in the world."
The event will be simulcast on February 6 across channels – Doordarshan, Star TV, SET, and ZEE TV. News channels – NDTV, TV Today, STAR News and CNBC will also simulcast in the telethon live. Radio channels and websites have been roped in to reach a wider audience. The telethon is expected to reach over 308 million people.
"This would be akin to a television roadblock—which is unprecedented in the History of Television globally," claimed Kunal Dasgupta, CEO, Sony Entertainment Network.
The telethon will allow those who pledge money to call in and chat with their favorite stars to take part in online auctions and merchandise sales. To aid this, organisers have opened secure gateways on the net to facilitate payments. Banks through their ATMs, Mobile service providers and websites have all been roped in to provide payment options, so that none will find it difficult to pledge their contribution.
While pledging support for the cause, Bollywood superstar Amitabh Bachchan was quick to point out, "The money usually disappears after the show. We hope that this time the money does reach the people whom it is intended for and it is used properly."
Assuring the transparency of the process, Amit Khanna announced that the amounts accrued from the telethon and the concert would be kept demarcated within the Prime Minister's Relief Fund and used under guidance from the Guild.
Photograph: Arun Patil