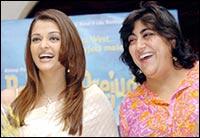 H
aving put Jane Austen behind her, Gurinder Chadha has turned her attention to a contemporary writer, Chitra Banerjee Divakaruni, who has a significant following in North America and Britain. Chadha has also made sure the star of her
Bride & Prejudice
, Aishwarya Rai, will be in the new project.
"We have developed a great relationship," Chadha told rediff.com. "I am excited to be working with her again."
More than five years after Chadha showed interest in turning Divakaruni's magic realism novel The Mistress of Spices into a movie, the filmmaker is ready to start shooting the film. However, Chadha will not direct the movie that casts Dylan McDermott opposite Rai. Her scriptwriting partner and husband Paul Mayeda Berges will. The movie will be shot extensively in northern California.
Exclusive! Check out what Shobhaa De says on Shaadi: SMS SHO to 7333
Dylan McDermott has appeared in key roles in 25 films but the 44-year-old actor hasn't had a hit of his own. One of his best-known films, for example, is the 1993 hit In The Line Of Fire in which he played a secret service man. He had the fourth billing in the film that starred Clint Eastwood, John Malkovich and Rene Russo.
| | |
| --- | --- |
| | More on rediff.com! |
| | |
The Mistress Of Spices
revolves around an Indian woman in Oakland who runs a spice shop and has magical curing powers. Suddenly, she finds herself without magical answers to her own dilemmas when she falls in love with an American.
"Gurinder understands the woman's world," Divakaruni had said in an interview with rediff.com in October 2003. "She will be able to do justice to the complex issues in my novel."
Some months ago Chadha and Berges spent a weekend with the Divakaruni family near San Francisco to discuss the film's script and direction. "I have admired Gurinder's films for long, especially Bhaji On The Beach," Divakaruni added. "My book is in great hands."
Earlier, there was speculation that Chadha was looking for Johnny Depp to play the lead. Had that happened, the film's budget would have ballooned to at least $60 million. Currently, the film is expected to cost $10 million.
Chadha had said three years ago that she was keen on making the film but had problems raising money. But with the unexpected success of her Bend it Like Beckham and with Miramax producing Bride & Prejudice, it became much easier for Chadha and Berges.
Deepak Nayyar, who co-produced Chadha's last two films, will produce the new venture.
Chadha will also be directing I Dream Of Jeannie, a comedy with plenty of special effects that is expected to cost about $80 million, for Sony.
If that estimate holds, she will be directing the most expensive Hollywood film by a desi. Manoj Night Shyamalan's films cost about $70 million each, for his stars like Mel Gibson and Bruce Willis each got a part of the box-office gross. Shekhar Kapur's Four Feathers was made for about $70 million but about one-fifth of that money was spent on re-shooting some of the crucial scenes in the film.