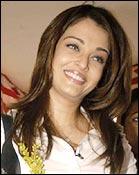 A
ishwarya Rai showed up on the
Late Show with David Letterman
in a short black dress, a black blouse and a leather jacket -- and made sure he wasn't going to have one up on her.
When he asked her how she got started in show biz, she threw a smile at him and asked how he got started in his business. Someone fell sick, Letterman said laughing.
Earlier, on his hour-long program on CBS, Letterman reiterated what are now familiar lines in America: Rai is the most famous star in the world adored by billions and she is also the most beautiful woman in the world.
Ash had the second billing on his show, following comedian Kevin James who makes his big screen debut in Hitch (starring Will Smith) which opens on February 11, the same day Gurinder Chadha's Bride And Prejudice (starring Rai) is being released in 15 American cities on about two dozen screens.
Unlike the CBS's 60 Minutes that was shot in Mumbai and followed Rai to the Siddhi Vinayak Temple (and showed her grabbing more attention than the deities), the Letterman interview took place in his studio in New York.
Rai's appearance on the show came less than 16 hours before she would walk on the red carpet at the Bride and Prejudice premiere at Union Square Theatre in Manhattan.
Unlike in the 60 Minutes show, Rai did not have tell Letterman about her queasy feelings about kissing on screen. She made a face at him for asking if it was common for grown-up children in India to live with their parents. Rai said the arrangement suited her fine; she did not have to take appointments to have dinner with her parents.
| | |
| --- | --- |
| | More on rediff.com! |
| | |
And she patiently answered the question over a dozen reporters, including one from
Daily News,
have asked her: Will she relocate to Hollywood? Actors are like gypsies, Rai said with a smile, and they have no problem moving around. But she wasn't thinking of a permanent move, she added.
The Daily News, with over 1.5 million readers, last week published a 1,200 word piece on Rai, titled India's Magnificent Obsession.
Ash is enjoying the wildest attention a foreign actress has received in recent years in America (it was a different era when Sophia Loren and Gina Lollobrigida were lionised). Not even Zhang Ziyi, whose Hero grossed an impressive $50 million in the US leading her to the title role in Steven Spielberg's Memoirs Of A Geisha has received a fraction of the attention that Rai has commanded.
Despite all the attention Rai has been getting, her name did not appear in the quarter-page colour ad Bride And Prejudice distributor Miramax ran on Sunday in The New York Times. The ad, which used a still from the film showing her with Henderson, did not mention the names of the cast. But Chadha had her name in three places; along with her husband Paul Mayeda Berges as co-writer, as co-producer with Deepak Nayar and as the director.
In a few days, it will be time for a reality check; the reviews will start pouring in. Hollywood will have to decide if Rai is 'a world-class hottie' as Peter Travers declared in Rolling Stone magazine or just a beautiful 'still picture' as Richard Corliss complained in Time.
The interest in Rai also has to do partly with the success of desi directors such as Gurinder Chadha and Mira Nair in America. If they trust an actor, the logic seems to be, Hollywood has to pay serious attention.
Whether the publicity will lead Rai to a plum Hollywood role will depend considerably on how Bride And Prejudice plays to the crossover audience.
Some early reviewers have already written about Ash. '…A goddess in her native India, [she] will soon be adding Americans to her worshipful flock,' Travers declared in Rolling Stone.
Corliss, whose recent favourite movies include Devdas (that co-starred Rai), differed. 'She appears always to be fluffing her hair for the next fashion shoot,' he wrote. 'She's got moves on the dance floor; and… she smartly sells a few numbers that try to update the [Jane] Austen ethos ('I just wanna man who gives some back/ Who talks to me and not my rack'). What she can't do yet is suggest a complex spirit behind the lovely façade.'
Chadha is convinced Bride And Prejudice will outperform her surprise hit Bend it Like Beckham that grossed about $34 million in North America two years ago.
"Miramax knows, after several screen tests, that this is a populist film," declares Chadha.
She is not concerned if few people know about Jane Austen's novel that inspired the film. The film isn't advertised as based on the classic; at least the advertisements did not mention Austen.
"The novel was an inspiration, alright," Chadha says. "But we have given the film a contemporary and international outlook. Anyone can go into a theatre without knowing anything about Jane Austen or Bollywood and enjoy the film."
She wants the audiences to discover a whole new world, Chadha says, and a "wonderful star" called Ash.
But if her first film with an English-speaking role disappoints, Rai would lose much of her bargaining chips in Hollywood.
Another key factor that could come in her way of Hollywood dreams is that she doesn't want to move there permanently.
"Being visible in Hollywood means a lot," tennis player turned movie producer Ashok Amritraj, who had cast her in Jeans, had said last year. Big time actors can afford to live outside Hollywood, he said, but for someone from England or France looking for Hollywood roles, it was important to be seen and heard in the tinsel town. Nearly four decades ago, Shashi Kapoor failed to make inroads into Hollywood following Pretty Polly opposite Hayley Mills because he would not move to Hollywood or Britain. He had to be content with the films made by independent producers such as Ismail Merchant.
The only big Hollywood project Rai seems to be firming up now is the adventure drama Racing Monsoon, to be produced by Michael Douglas. But even in that film she will play an Indian character. Her big challenge will be to get a colourblind part or play a part other than South Asian in a big Hollywood production.
True, Rai has a part in the Meryl Streep film Chaos but the film doesn't look like a star-making vehicle for someone bound for Hollywood. Besides, it was announced two years ago and seems to have made no progress. Rai is credited as the lead actress in Roland Joffe's Singularity opposite Brendan Fraser, but details about the film's production schedule are not available.