When there is no burning issue, many political parties and politicians in Tamil Nadu take to professing their love for Tamil.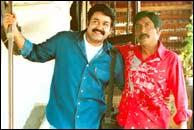 What follows generally is putting the Tamil film industry in their crosshair.
The 'Tamil protection movement' – spearheaded by PMK's Dr S Ramdoss and supported by Dalit Panthers of India leader R Thirumalvalavan – has been threatening all filmmakers who give English names to their movies.
Kamal Haasan's Mumbai Express and S J Suryah's BF (Best Friends) had been their favourite target for sometime. Both filmmakers refused to change the titles.
In the latest in the lingua fracas, Chief Minister J Jayalalithaa has warned the so called lovers of Tamil that her government would not remain a mute spectator if anyone indulged in violence in the name of Tamil names for Tamil films.
| | |
| --- | --- |
| | More on rediff.com! |
| | |
Mohanlal-Srinivasan shine again
It's yesterday once more for one of the most loved and successful duos in Malayalam cinema. Udayananu Tharam, starring Mohanlal and written by Srinivasan in his inimitable style, is a big hit in Kerala.
The film reminded people of the days the pair made hilarious black comedies such as Sanmanassullavarkku Samadhanam, Nadodikkattu and Pattanapravesam.
 In Udayananu Tharam, Mohanlal plays a struggling filmmaker while Srinivasan is a successful hero. Meena is the heroine.
Geetu Mohandas as sex worker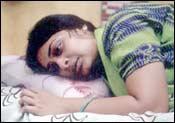 Those who have seen the sneak preview of debutant director Pradeep Nair's Oridam are raving about Geetu Mohandas's performance. After wowing critics playing an Anglo-Indian girl in Shyamaprasad's Akale, Geetu plays a challenging role, of a sex worker, in Oridam.
The film was shot mainly with hidden cameras in public places such as bus stands and railway stations. Those scenes are said to be the highlight of the film. The director has looked at the lives of sex workers with a lot of sympathy.
Big brother boo hoo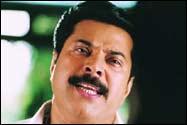 Mammootty's Vesham, though running to packed houses, is a rehash of all the tearjerkers that have been made in Malayalam from the days of the late Prem Nazir.
The last in the list was Balettan, in which Mohanlal played the big brother who sacrifices everything for his younger siblings. Balettan made people cry and the producers grin from ear to ear.
The same director, V M Vinu, has made Vesham. The only difference between the two movies is that the title Vesham does not have an ettan (big brother) as a suffix.
Once again, Keralites are shedding bucketfuls of tears watching Mammootty, the big brother, sacrifice and suffer. Filmmakers are laughing their way to the bank.
Yuvan Shankar Raja rocks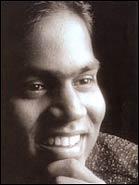 Guess whose music youngsters in Tamil Nadu swear by now? Nope, it is not A R Rahman but the youngest son of Ilayaraja, Yuvan Shankar Raja.
Yuvan has sensed the pulse of the young audience, and surprisingly, has wowed them not with fast numbers but soulful melodies.
Yuvan stormed into the music scene with the highly successful Kathal Kondein, in which he used western classical, piano and choir music liberally. With 7G Rainbow Colony and Manmadan, he hit big league.
With his latest Ram, which is the rage in Tamil Nadu now, he has become the top music director in the state.
Success for Trisha in Telugu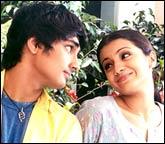 Trisha Krishnan starred opposite Vijay in the biggest Tamil hit of 2004, Gilli. Though her latest film Thirupachi, again with Vijay, is not as big a hit, it is the most successful of all the Pongal releases.
The actress, however, is making waves in another language. Her Telugu film Nuvvostanante Nenoddantana, directed by Prabhu Deva with Siddharth (of Boys fame) as the hero, has been declared a super hit.
Nuvvo… is Prabhu Deva's first directorial venture. Trisha has been flooded with offers from Telugu and seems to be spending more time in Hyderabad than in Chennai! Siddharth and Trisha were last seen together in Mani Ratnam's Aayutha Ezhuthu.
Trisha's next Tamil movie is Ji, with Ajith. 
Bharath is unstoppable.
Though Siddharth was the hero of Boys and the darling of the media, it was Bharath who was accepted more by the general public and filmmakers.
Bharath's latest film Kadal is making waves in Tamil Nadu, and has battered all the major Pongal releases of established stars like Vijay, Sarath Kumar, Prashanth etc.
The next film Bharath is going to star in is February 14th. As the name suggests, it is a love story and is directed by another of Shankar's assistants, Hosimin.
Starring opposite Bharath is Renuka Menon, one of the heroines of the successful Malayalam film Nammal. February 14th will be launched on February 14.