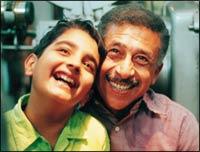 Filmmaking is about telling a story, but every now and then, the story is so strong that the telling isn't as important anymore.
Rahul Dholakia's Parzania is a wake-up call, a powerful eye-opener to the world so close to us, a pointer to the bloodlust lurking beneath the semblance of calm.
It is, quite simply, a film that should be seen.
Don't miss: Rediff pick: Parzania
Based on a true story, Parzania revolves around a Parsi family in Ahmedabad. Cyrus (Naseeruddin Shah) is the local film projectionist married to Shernaz (Sarika). Their kids, Parzan, 10, (Parzan Dastur) and Dilshad, 8, (Pearl Barsiwala) are an imaginative pair, and, as they cavort around the breakfast table, they are a credibly happy household.
Allan Webbings (Corin Nemec) is a disillusioned American, comfortably late with his dissertation and not giving a damn about most things. His tragic back-story is skillfully told, as he casually narrates it over glasses of cheap alcohol to Cyrus while he hangs his hand-washed laundry out to dry. Fascinated by an neighbour's Gandhian preachings (an old bald man with glasses, mind you), Allan is more than content drinking hooch and reading philosophy without necessarily having to believe in it.
| | |
| --- | --- |
| | More on rediff.com ! |
| | |
And then there is an explosion. Heard only on the radio, it sounds very far away, but the repercussions are felt. Hard.
Godhra leads to bloodthirsty mobs rampaging indiscriminately for unreasonable revenge, the fanatical fire fuelled by a selfish government.
The tale is a painfully simple one. The Parsi family is caught in the midst of the religious madness, and suffers. Shernaz manages to heroically flee with Dilshad, but Parzan is nowhere to be found. Cyrus and the family are relatively unharmed, and Allan offers them room in his own ransacked house.
The American has witnessed a woman being burnt alive on the hood of his car even as he is trying frantically to back away from the scene, and the events in Gujarat open his eyes wider than he had ever expected.
The family waits for Parzan. For any news, because the uncertainty is heartbreaking. But there is no respite. Every lead is a false alarm, every day is an unending trial of their patience, of their resilience. The film is titled Parzania because that's what the jaunty Parzan had christened his world, his imaginary utopia with mountains of ice creams and nothing but cricket -- a world where everyone is happy.
But that is not the real world. The real world is what Allan is hammering out on his typewriter, through a diatribe fuelled by alcohol and loathing, disgust and defiance. The American, more profane than profound, describes the Gujarat riots with angry text, going far enough to make censor-pushing statements like: 'The Parishad is this country's equivalent of the KKK [Ku Klux Klan]'.
Which is why it is hard to believe Parzania will get a wide theatrical release, and which is what justifies the film being in English. While it is obviously unreal to see pillaging hordes saying 'Get off!' instead of something in the vernacular, this is a film that never expected to make it to Indian theatres, and the English is well suited to the narrative.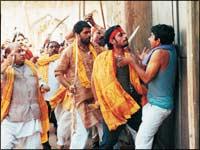 The fact that Allan is making the politically charged statements that Parzania believes in is a directorial masterstroke, because any Indian character in his place would face inevitable allegations of bias. Also, his expletive-laced speech helps in getting the point across.
The performances in the film are superlative. Sarika is amazing in the role of a lifetime, playing a mother pushed to the extreme. She is believable even when leaping balconies in self-preservation, and her soliloquy at the end is the clincher for the entire film.
Her warm chemistry with Naseer (who too, predictably, turns in a class performance) at the start of the film is great, as is her support to him when he is breaking down at the end.
The children (we've seen Parzan in commercials a million times, but Pearl is a fresh face) are real finds, as is Sheeba Chaddha, who plays Nikhat, a neighbour, with restrained magnificence. Corin Nemec, with a face like Heath Ledger, does quite well.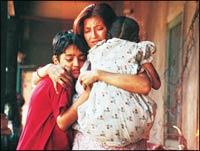 What Parzania has to be really applauded for is the fact that it strongly believes in itself, and is extremely direct in condemning the State-sponsored violence in Gujarat. The message is simple, angry, and sincere – and deserves to be heard.
As a film, there might be moments you don't agree with the way the film is made, or technically locate flaws in the director's approach, but Parzania wisely holds on tight to the reins of the story, and that automatically makes it a noble effort.
The film ends with a photograph of Azhar, a real boy still missing since the Gujarat riots, in the hope that the film may help his parents, the director's friends, get some news of him.
Parzania is a commendable film, one that needs to be talked about, discussed, recommended and watched.
It is also a film very hard to leave behind.