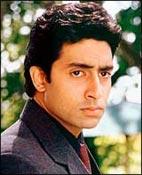 In order to be near his hospitalised father, Abhishek Bachchan has been compelled to postpone his shooting schedule for J P Dutta's Umrao Jaan in Rajasthan. But the director is not overtly worried.
"Of course, Abhishek's absence has made a difference," says Dutta. "He is integral to the shooting. Those who  think his role is secondary to Aishwarya Rai [who plays Umrao Jaan] and is therefore less time-consuming, don't know what they're talking about."
| | |
| --- | --- |
| | More on rediff.com! |
| | |
Maybe the analysts are comparing Abhishek's role with Farookh Sheikh, who played the role in the original.
"I haven't seen Muzaffar Ali's version. I'm tired of saying that my characters aren't based on that film but on a script that my father O P Dutta wrote 20 years ago. According to this version, Abhishek has plenty to do. Yes, we're managing without him but no time is being wasted. I'm shooting scenes with the rest of  the cast -- Puru Raj Kumar, Suniel Shetty, Ayesha Jhulka, Divya Dutta and Ash. Hopefully, Abhishek will join us soon. But he must be with his dad now. Any filmmaker affected by such a setback would willingly make the necessary adjustments. And we're talking about Amitabh Bachchan. His health concerns every Indian."
About Ash, who reprises Rekha's role, Dutta says, "Ash is truly the epitome of grace. What she's doing to Umrao's part boggles the mind."