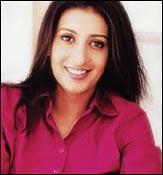 It's got to be the biggest TRP-boosting gimmick in recent times. And it seems to be working better than the people behind it bargained for.
Last week, home viewers were shocked out of their couched stupor when their favourite matriarch Tulsi, played by the fiery Smriti-Malhotra Irani, was said to have been diagnosed with lung cancer.
As the entire Virani parivar sobbed their hearts out, viewers went into collective dismay. The major soap minus its protagonist was inconceivable, if not unimaginable. To make matters worse, Smriti Malhotra-Irani was quoted as saying she was indeed dying in Kyunkii Saas Bhi Kabhi Bahu Thi. 
| | |
| --- | --- |
| | More on rediff.com ! |
| | |
"It was a joke," laughed Smriti, earlier today. "The journalist jokingly asked me if this was the end of my character... I said it would certainly make the men very happy. We were both laughing. But I suppose a headline was born during the banter."

 

"Now, everyone thinks Tulsi will die. Even my husband called after reading this. 'You made such an important career decision and you didn't inform me!' I had to pacify him. Now I must reassure the soap's audience. No, I'm not leaving the soap, not as along as I'm wanted on it. I was even asked about the possibility of my dying and coming back, like my character's husband Mihir did. I said I hadn't heard of any such plans."

 

So where's her character's lung cancer leading her? "Search me!" chortles Tulsi, enjoying the joke. "I don't know where the script is heading. I never question the script beyond a point. Earlier, Tulsi went through a number of crises. She got pregnant and lost her memory. For her, getting over lung cancer should be a cakewalk!"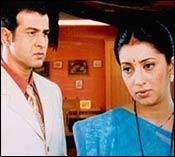 In the meanwhile, the plot gimmick has created collective concern among television audiences who think Tulsi's terminal illness may or may not be a ploy to grab viewers' interests further, what with the soap going from a 4-day to a 5-day telecast this week.
Smriti laughs, "I don't know about Tulsi, but overwork can certainly kill me now."
Reacting to the belief that the soap without Smriti is impossible, she says, "Not at all. No character in a soap is indispensable. After watching the devastation in Mumbai last week, I'm convinced no human being is infallible. If anything, Kyunki Saas is impossible without Ekta Kapoor."
"No, Tulsi isn't going to die. At a time when all of us have gone through nature's unsparing fury, it's just a scary brush with mortality. Life, especially life on soaps, sometimes needs a reality check."