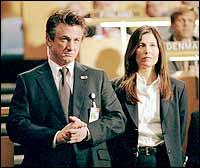 Sydney Pollack, the Oscar-winning director of Out Of Africa, thought he knew New York very well. The 71-year-old filmmaker, whose hits include The Firm and Three Days In A Condor, was convinced he could shoot his new film The Interpreter, a political thriller starring Nicole Kidman and Sean Penn, anywhere in his city, and that meant the United Nations.
He readily confesses that the one reason he was drawn to the project was because of the opportunity to shoot inside the UN. It was central to the movie's plot, in which Kidman stars as Africa-born UN interpreter who inadvertently overhears a death threat against an African head of state scheduled to address the UN.
Realising she's become a target of the assassins as well, she works desperately to convince the authorities of the threat. But her life becomes even more complicated as Tobin Keller (Penn), the federal agent in charge of protecting her, wonders what she is really up to.
| | |
| --- | --- |
| | More on rediff.com! |
| | |
With the script ready and the actors signed on, Pollack was startled to learn early last year that no one was allowed to shoot in the UN. He was reminded that even Alfred Hitchcock was denied the permission many decades ago to shoot scenes in his political thriller, North By Northwest, there.
Unlike Hitchcock, Pollack could not take a no: the script demanded that much of film had to be shot inside the UN. He must have been aware that recreating the interiors of UN on a soundstage would cost nothing less than $5 million. And for a film budgeted at about $50 million, it would have been a burden.

'I started calling anybody and everybody that I knew who had any connections and eventually, I was able to arrange a meeting with (UN Secretary General) Kofi Annan,' he recalls in the production notes of the movie that opens on April 22.
The film has already opened in a handful of countries including Britain, Spain and Australia where it is shaping into a sizeable hit.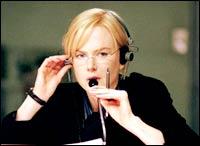 Pollack says he had no idea that the key to arranging the make-or-break meeting would be the novelist and movie buff Shashi Tharoor, who is also the under secretary-general for communications and public information at the UN. Tharoor was at once sympathetic to Pollack.

Tharoor says he felt the ban was 'not terribly wise.' The UN 'is an institution we need to demystify a little bit,' he says in the production notes. 'We are an organisation of governments but we work for the peoples of the world, and I think it is important to make the UN more accessible to those people.'

While preparing to meet with Annan, Pollack thought hard over what he should tell the diplomat. He decided that right at the beginning Annan should be made aware the film is not 'an advertisement for the UN.'

'At the same time, I told him that the character Nicole Kidman plays is someone passionately committed to diplomacy and believes in the principles of the UN,' Pollack recalls. 'I wanted it to be an argument about the words versus guns.'

Before Annan gave his approval, he asked Tharoor to consult the heads of the General Assembly and Security Council. Once they gave their assent, Pollack received the first-ever access to shoot at the General Assembly and other UN interiors. The Interpreter then became the first film to be shot inside the UN buildings, which are over five decades old.

'It is an atmosphere that can't be re-created in any other way than being there,' he says.

With the permission came restrictions, too. The shooting, which was to be spread across five months, had to be done only in the evenings, and the weekends, for instance.

For cinematographer Darius Khondji, shooting inside the UN was a huge challenge. 'On location, I usually prefer to reconstitute, to rebuild, to relight everything,' he says. But he decided to 'try to respect as much as possible the real true colour and contrast of the UN without too much colour correction.'

And as the filming progressed, like Pollack, he too felt the UN had become another main character in the film. 'There were Nicole Kidman, Sean Penn, Catherine Keener (who plays an FBI agent) and the United Nations.'