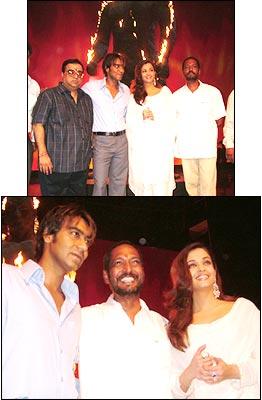 At the launch party of director Raj Kumar Santoshi's new film, Saamna, last weekend, the theme was facing your fear.
But when asked what fear Ajay Devgan, Aishwarya Rai and Nana Patekar were going to take on, all fingers pointed to Santoshi. He, in turn, refused to divulge the storyline.
All he would say was the film will release by late 2005 or early 2006. 
The other star of the film, Akshay Kumar, was away shooting in Chandigarh.
Without elaborating on his role, Nana said, "This fear does not make us speak in certain situations. It kills our conscience and then we face more dire consequences."
When asked why he has been keeping a low screen profile after Ab Tak Chappan, Nana said, "I am doing films. I am in Apaharan and now, Saamna. I guess I am very lazy and don't take too much of work. But I must confess that I am getting more offers in my old days compared to my young age."
Aishwarya too would not elaborate on her role, saying, "It is the basic nature of human society to not take a stance in a lot of situations. We see that in our day-to-day life. [But] We have to stand in spite of our fears." 
"I had a good time working with Ajay and Akshay for Khakee. And this is the first time I am working with Nana Patekar. So I am looking forward for this film. This is the only film I have signed so far besides Dhoom 2," said Aishwarya.
Devgan was more candid. "It was Raj Kumar Santoshi's idea and therefore I agreed to do the film. He is a great director and one of the best in our country. This film is about the problems that we are facing in our society," said the Bhoot star.
He said unlike his earlier film with Santoshi, Khakee, he was not playing a negative role in Saamna.
Last year was one of the worst years for Devgan. All his films flopped. "It happens. I think it is a phase and it gets over," he said. 
"Some decisions go wrong and it is part of the game. Now Kaal and Main Aisa Hi Hoon will release soon and I feel that they have worked out very well. I hope they do well."
Text: Syed Firdaus Ashraf | Photographs: Pradeep Bandekar