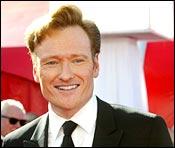 Jay Leno, host of The Tonight Show since May 25, 1992, will hand over the most coveted reins in America's stand-up comic industry to Conan O'Brien, who currently hosts the Late Night show on NBC.
Since its debut in September 1954, The Tonight Show has set the standard for network broadcast talk programming in America, and has had just four permanent hosts: Steve Allen (1954 to 1957), Jack Paar (1957 to 1962), Johnny Carson (1962 to 1992), and Leno, who will continue till 2009, after which Conan will crossover from Late Night and handle the show.
The Harvard-educated Conan, 41, is an edgier comic host, often given to racier sketches and monologue than Jay, 50. His remaining in the late night slot has been a concern for NBC, who feared he might switch networks.
Conan's current contract will keep him at the helm of Late Night until the crossover.
For NBC, this crowning of the successor is ideal as it lets its audience transition smoothly from one of its hosts to another, and avoids the sensationalised battle for the position as seen between Leno and David Letterman in 1992, resulting in the latter's bitter move to CBS to start the Late Show.
Photograph: Getty Images