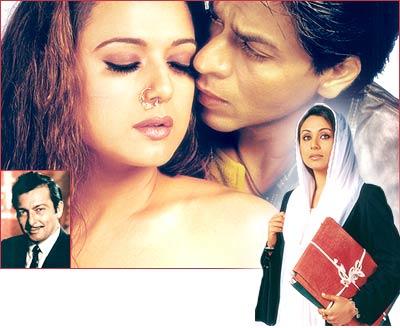 O
n September 18, when the music of Yash Chopra's latest film
Veer-Zaara
was launched, I went over to meet an old man who owns a music store near my house.
I don't know his name; I call him Uncle. We have similar interests, one of them being listening to old Hindi film music. Both of us had eagerly awaited the release of late composer Madan Mohan's music in the film, starring Shah Rukh Khan, Preity Zinta and Rani Mukerji.
Yash Chopra had told
rediff.com
in an 
interview
that one of his greatest regrets in life was that he could not work with Madan Mohan. One of his favourite songs composed by Madan Mohan is
Lag ja gale
from
Woh Kaun Thi
.
I asked Uncle if he liked the music of
Veer-Zaara
but he could not judge it at one go. He said he would have to listen to it a couple of times to enjoy it.
And that is exactly what I felt too, after listening to the music.
It will disappoint you at first, but if you listen to it repeatedly, the music will grow on you.
Tere liye
is catchy and soothing to the ears.
Main yahan hoon
-- sung by Udit Narayan -- is beautiful, but I wonder why the Punjabi hit song
Laung dawaja
is introduced in it.
The same goes for
Aisa des hai mera,
which has bits of the
Naya Daur
song
Yeh desh hai nau javanon ka
. The song has all the Punjabi traits like any other Yash Chopra film, and is sung by Gurdas Mann, Pritha Majumder, Udit Narayan and Lata Mangeshkar.
Yeh hum aa gaye hai kahaan
and
Hum to bhai jaise hai
are passable.
Do pal
has outstanding lyrics, and is a very touching song. Sonu Nigam has done a good job in this.
But the best song in the album is undoubtedly
Kyon hawa,
again sung by Sonu Nigam. Lata Mangeshkar accompanies him, along with a narration by Yash Chopra.
The qawwali
Aaya tere dar par
sung by Ahmed Hussain and Mohammed Hussain will take you back to the 1960s. But the song seems to be a mismatch when heard against the contemporary music. It does not fall into the same category as
Tumse milke dil ka haal
in Farah Khan's
Main Hoon Na.Lodi
by Gurdas Mann and Lata Mangeshkar is the usual Punjabi song. It's good but does not match
Dilwale Dulhaniya Le Jayenge
's hit,
Mehndi laga kar rakhna.
I wonder why two songs,
Tum paas aa rahe ho
(sung by Lata Mangeshkar and Jagjit Singh) and
Jaane kyon
(Lata Mangeshkar) are not included in the audio cassette, and the movie as well. These two feature exclusively on CDs.
Due credit must be given to Javed Akhtar for his outstanding lyrics. Madan Mohan's son Sanjeev Kohli -- also the CEO of Yash Raj Films -- recreated the music, and RS Mani has arranged it.
All the male singers have done a commendable job but Lata Mangeshkar disappoints. If you compare her voice now to some of her earlier songs like
Naina barse
of
Woh Kaun Thi,
you will be disappointed.
If you love classical music, then
Veer-Zaara
's music will definitely appeal to you. But if you prefer funky music like that in
Dhoom
, this is not for you!
In another move to promote curiosity about his new film, Yash Chopra has not allowed radio and television stations to air songs from
Veer-Zaara
for a while. Yash Raj Films has tied up with MTV to offer exclusive clips from his film, as well as catch up on Chopra's earlier hits.
Preity Zinta, Shah Rukh Khan, Rani Mukerji.
Inset: Madan Mohan.