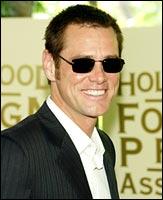 He was born in Ontario, Canada, but has now decided to call the United States home.
Following up on a plan announced earlier, Jim Carrey has become a US citizen.
The 42-year-old comedian says he has no intention of giving up his Canadian heritage though, nor is he ready to forget all those who have loved and supported him.
'My upbringing in Canada made me the person I am,' the actor recently told People. 'I will always be proud to be a Canadian.'
Why the decision? Because Carrey believes America is the country that helped define him and make his dreams come true.
Photograph: Getty Images