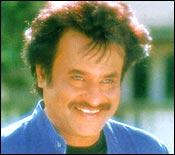 I
n Tamil Nadu, there is only one superstar.
You needn't name him. If you say superstar, it is understood who you are referring to.
Any bit of news about the superstar, his films or political views is big news. Every word uttered by him, every expression of his is analysed threadbare and new meanings are deduced. Even his dialogues on screen are carefully studied and scrutinised.
Yes, I am talking about Rajnikanth.
The power and charisma of this man, clad in white with white hair and a white stubble is such that every time he announces a new film, the media goes wild with excitement. Of course, the amount of speculation and rumours that go with the announcement of each film of his is also unparalleled.
| | |
| --- | --- |
| | More on rediff.com! |
| | |
Rajni's last film
Baba
(2002) was made with much secrecy, like his earlier films. Unfortunately, the suspense before its release gave rise to a lot of speculation and expectation. And that went against the film because it could not live up to expectations.
The makers of Baba realised that only a good story and novel treatment could make a Rajni film a success. Rajni, in a magnificent gesture, compensated the distributors for their losses.
Last year, the actor announced that his next film would be Jaggu Bhai, and photographs of Rajni dressed up as Jaggu Bhai were circulated. But it did not progress beyond that.
Last week, it was heard that Rajni's new film will be launched soon, and it would not be Jaggu Bhai, but another film called Chandramukhi.
The 'story' that goes around is that Rajni, who was holidaying and meditating in Bangalore, happened to see a Kannada film that is running houseful -- Aaptamitra. It stars Vishnuvardhan and the late Soundarya (she died in an air accident while on a promotion tour for the BJP during the general election), and is said to be the remake of Fazil's Malayalam classic Manichitrathazhu.
The film is directed by P Vasu who had earlier directed three of Rajni's Tamil films -- Panakkaran, Uzhaippali and Mannan. All three were super hits.
The grapevine has it that Rajni, who was so impressed with Aaptamitra, wanted P Vasu to remake it in Tamil.
Enter Sivaji Productions, associated with the late thespian Sivaji Ganesan, planning its 50th film.
The 49th film from Sivaji Productions, Rajakumaran starring son Prabhu, was made way back in 1992. Due to various reasons, they had to wait for 12 long years to make their next film.
Rajni's Mannan was also a Sivaji production. Rajni had announced at the jubilee celebrations of Mannan, in Sivaji's presence that he would act in their 50th film.
And when Ram Kumar, Sivaji's elder son, contacted Rajni to discuss his starring in their 50th film, he had already seen Aaptamitra and talked to P Vasu. The cards fell in place, and Ram Kumar and Prabhu of Sivaji Productions decided to produce Chandramukhi, which will be directed by P Vasu.
The shooting of the film is scheduled to start on November 1, Ram Kumar said.
Fazil's Manichitrathazhu starring Mohanlal, Shobhana and Suresh Gopi is considered an 'evergreen' film. Even after a decade, the film is watched with great interest by the people of Kerala. The film had unadulterated and sophisticated comedy, great suspense, mystery, thrill, and above all, excellent performances.
Even though Shobhana won her first National Award for her performance as a schizophrenic in Manichitrathazhu, it was Mohanlal who won hearts. Mohanlal as Dr Sunny, an eccentric and very funny psychiatrist, was a delight to watch.
No wonder Rajni got excited about the character. In Manichitrathazhu, Mohanlal makes his appearance only minutes before the interval, but Chandramukhi will definitely be written with the superstar in mind, and with Manichitrathazhu only as the base.
If Chandramukhi is indeed inspired (indirectly) by Manichitrathazhu, the female character is extremely important. Names of Simran, Sneha and Reema Sen are going around. Prabhu is said to be doing the role enacted by Suresh Gopi, who was Shobhana's husband in the film.
The story of Manichitrathazhu takes place with a young couple, Ganga (Shobhana) and Nakulan (Suresh Gopi) arriving at the ancestral home of the latter. As a school girl, Ganga had grown up imbibing her grandmother's ghost stories in their ancestral home. She was transplanted to Kolkata after school. Her mind, which had forgotten all those stories suddenly comes alive when she and her husband came to live in his 'haunted' ancestral home. The story comes alive with Dr Sunny's arrival.
If Chandramukhi recreates the drama and sophistication of Manichitrathazhu, Rajni's new film may avoid the fate of Baba, and Sivaji Productions will have a winner in their hands.