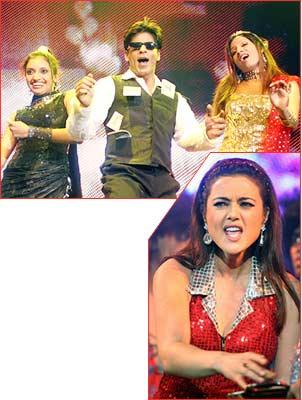 Shah Rukh Khan has proved once again that he is truly Bollywood's biggest star overseas.  
Currently in South Africa [ Images ] for The Temptations 2004 world tour, the King Khan [ Images ] wowed a 10,000-plus audience in picturesque Sun City on November 28.  
The fans braved a three-hour delay to catch him live in action.  
A massive computer systems failure crippled the organisers. Over 6,000 people were left wandering from temporary seat to temporary seat and restaurants struggled to meet the unexpected rush.  
But the fans stuck around loyally, and were aptly rewarded. 
During the first leg of Shah Rukh's [ Images ] South African sojourn, rain lashed the venue in Durban -- an open-air stadium. But SRK [ Images ] refused to let spirits be dampened. The show went on, much to the delight of fans from across the country.
The Temptations show also stars Preity Zinta [ Images ], Rani Mukerji [ Images ], Zayed Khan [ Images ] and Saif Ali Khan [ Images ].  
The troupe has toured Atlanta, New York, London [ Images ], Dubai [ Images ] and is headed for Hong Kong next.
Photographs: Rajesh Jantilal/AFP/Getty Images