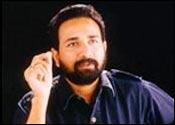 Art director Sabu Cyril's first major success was the Malayalam film, Kaalapani.
His work in films like Kamal Haasan's Hey! Ram and Shankar's Boys have also been impressive.
Like cinematographer Ravi K Chandran, Cyril also worked with Mani Ratnam on his last release, Kannathil Muthamittal.
He tells Shobha Warrier why working on Yuva and Aayutha Ezhuthu was a "challenge" for him.
The director [Mani Ratnam] had drawn three protagonists from three different backgrounds.
I had to create everything differently for each of these characters.
| | |
| --- | --- |
| | Yuva on Rediff: |
| | |
I studied each character in depth. I gave them [the three characters] a distinct colour, mood and background to suit their temperament.

The character played by Ajay Devgan [played by Surya in Aayutha Ezhuthu] is a Christian. To create his house, I followed [the arrangement] my own house. I used some of the photographs in my house. The photo of the 'first communion' is very common in a Christian house. You will not find it anywhere else. I placed a lot of plants near the window. The refrigerator [used in the film] is an old Alwyn model.

Siddharth's [played by Vivek Oberoi in Yuva] house is modern with a lot of blue [coloured objects].

On the other hand, Madhavan's [played by Abhishek Bachchan in Yuva] house is rugged. The plastic in the house is rough. The walls are bare.

Shooting in the crowded areas of Kolkata was difficult. I recreated the streets of Kolkata in Chennai. That was a very big challenge.

Unless the work is challenging, we [creative artistes] don't get satisfaction.

Everything about Kolkata had to be correct, including the name boards on the streets. I bought two hand-driven rickshaws from Kolkata and made four more here [in Chennai].

I had to recreate Chennai in Mumbai for the Tamil version [Aayutha Ezhuthu]. We wanted to shoot at the harbour [in Chennai]. We were not given permission. I had to recreate the Chennai harbour in two days.

I do not know if anybody knows this: I recreated Sri Lanka in Kerala for Mani Ratnam's Kannathil Muthamittal.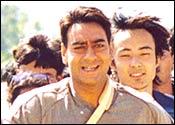 In Yuva, I constructed a set between two huge European buildings. I transformed one room into six sets. One day, it would be the principal's room, then the library, then a house and then a court.
We also put up a set for a song [Fanaa]. Mani Ratnam was shooting a song on a set after a long time.
It [doing the art direction for Yuva and Aayutha Ezhuthu] was difficult because I had put up a lot of sets in a very short period.
I really enjoyed working with Mani Ratnam. He is very good at heart. I could vibe very well with him.