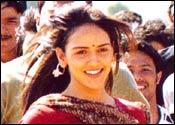 Esha Deol is the only star from Yuva who is also acting in the film's Tamil version, Aayutha Ezhuthu.
It began with a phone call from director Mani Ratnam's actor-filmmaker wife, Suhasini, who insisted on speaking with her in Tamil. Esha answered her in the same language.
Then, she asked Suhasini about the choice of language. And was more than surprised when she replied, "I wanted to offer you a role in Tamil and wanted to see how well you know the language."
Esha laughs now as she shares the memory with Chief Correspondent Syed Firdaus Ashraf.
"But I was really taken aback when he asked me to do Yuva as well," says the thrilled actor.
Excerpts:
What was your first reaction when Mani Ratnam called you?
Actually, his wife [actor-director Suhasini] called me. She wanted to know whether I could speak in Tamil. I said yes. We chatted in Tamil for a bit.
| | |
| --- | --- |
| | Yuva on Rediff: |
| | |
She then told me the reason: she wanted to check my Tamil because Mani Ratnam wanted to sign me for the Tamil version of Yuva.

I was very happy; I promptly called my mom [actor-politician Hema Malini] to tell her what had happened.

Can you describe your role in Yuva?

I am playing a girl who returns to Kolkata after studying in New Delhi. I am today's woman, very independent.

My character's name is Radhika. One of her oldest friends is the boy-next-door, played by Ajay [Devgan]. I have been in love with him since my childhood. He is the guy I want to marry.

It is a very bindaas role.

What was acting in this film like?

It was a great experience because I worked with Ajay and Mani Ratnam together.

It makes a big difference when you work with an experienced star like Ajay.

And Mani Ratnam is like God for me. I have always been a fan of his. I have seen all his films. Doing this role is a dream come true.

I am happy I had the opportunity to do the Tamil [Aayutha Ezhuthu] as well as the Hindi version, Yuva.

Mani Ratnam pampers you and also brings out the best in you. You will only understand this if you work with him. That is why actors give such a natural performance in all his films. 

You are the only actor doing the film's Hindi and Tamil versions.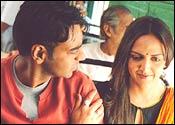 I started working in the Tamil version first. We shot in Chennai for a month. At that time, someone else [south Indian actress Simran] was doing the Hindi version. One fine day, Mani Ratnam asked me whether I wanted to do the role in Hindi as well. I was so happy, I could not ask for anything more.
What's the difference in the two roles?
It is the same role. In Tamil, I am cast opposite Surya instead of Ajay. The only difference is the language (laughs).
Was there any difference in Tamil and Hindi film set up? Was one better than the other?
I am a south Indian. I have a house in Chennai. I have lots of friends there.
Shooting for the Tamil version was just as good as shooting the Hindi one. I became great friends with Trisha and Siddarth, the other actors in Aayutha Ezhuthu.
In Hindi, Abhishek is a good friend. So it was great to be in both films.
Wasn't it boring to shoot the same role twice?
Not at all. I would have loved to do the Telugu and Marathi versions with him [Mani Ratnam] as well.
What kind of interaction did you have with the film's technical team?
While filming Yuva, all of us -- the people behind the camera, Mani Ratnam and me -- would speak in Tamil and all the other actors on the sets would feel out of place (smiles).
What was working with Mani Ratnam like? You must have had to concentrate harder because you were working in two films simultaneously.
Actually, I finished shooting for Aayutha Ezhuthu before I began Yuva.
It was like doing two different films.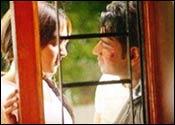 In Aayutha Ezhuthu, I had to speak Iyer Tamil; at home we speak Iyengar Tamil which is slightly different. So I had to work on certain pronunciations.
Mani Ratnam's assistant, Mr Kannan, would sit with me for hours and explain the nuances of the language. A lot of hard work went into the Tamil version.
What is the difference between working with Mani Ratnam and working with other Bollywood directors?
I think it is the timing. He used to get up at 5 am. He is very disciplined compared to our Bollywood culture which is not very disciplined in terms of timing.
Besides, he has a fabulous cameraman [see Ravi K Chandran's take on Yuva]. I did most of my scenes without make up and look at the way he made me look.
It [working with Ratnam] is a dream come true for all of us.
Yuva is the story of three male characters who meet on Kolkata's Howrah Bridge. Their lives change from that point. Does that leave you with much of a role?
I am Ajay's girlfriend. He is into politics. I am his moral support and this is shown in the script. I have a montage song, Badal, and the title song, Yuva, which has been nicely shot.
Rani Mukerji and Kareena Kapoor are the other actresses in the film. Do you interact with them?
I only interact with Ajay, Ajay's mom and his sister. The only other actor I see in the film is Abhishek, but I don't interact with him either.
In real life, he is a family friend. I have known him for long time. So it was very comforting for me to see him and we were happy in each other's company.
What does your dad [Dharmendra, actor-filmmaker and MP from Bikaner] think of you in the promos of Yuva?
When I showed him the booklet, he told me I look like a doll. I think only my father can say that to me at this age.
What will you be doing on May 21, the day Yuva is released?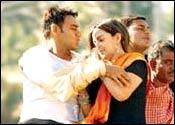 I will be flying to Singapore for the IIFA awards if I can complete my shoot, which is happening in Goa right now. But I will nervous on that day, even though I am generally a very happy-go-lucky person. Every artiste feels that way. I hope the films do well. A lot of people are expecting a lot from me in these films.
Are you open to doing Tamil films now?
(Laughs) Right now I am concentrating in Hindi films only. But if Mani Ratnam approaches me again for a Tamil film, I will do it.