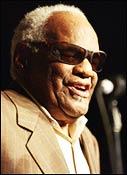 Anything I've fantasised about, I've done." Considering that Ray Charles said that way back in 1989 -- in an interview for the Los Angeles Times -- he was one lucky man. Considering that Aretha Franklin called him "the voice of a lifetime", he must have deserved it.
On June 10, at 11.35am in Beverly Hills, Charles -- the legend, pioneer, 13 time Grammy Award winner, and much-respected Genius of Soul -- died of liver disease.
It was, by all accounts, the culmination of one heck of a life.
The man had, in 73 years, and over a career spanning six decades, pretty much reworked the rules for jazz, gospel, blues and pop. He had taken two wildly diverse streams of music -- the free-spirited, hedonistic energy of rock 'n' roll and the slowly burning ache of gospel and soul -- to create something that had never existed before he decided to sit before a grand piano.
It is a mix that was sometimes obviously at war within him, shaking his body as he performed, in ways that will always be a little hard to forget. His lower half would be relatively calm, tapping out notes, keeping time. His upper body told another story, shoulders stiffly in position, torso swaying this way and that. The voice was deep and warm and rough; the lyrics, peppered with grunts and moans. And that smile -- bright, wide, white. Someone once said that watching him perform was like being witness to an "invisible tug of war between a devil and an angel". It was a fairly accurate description.
'I was born with music inside me,' he wrote in his 1978 autobiography Brother Ray. 'It was a force already with me when I arrived on the scene.'
Born Ray Charles Robinson (he dropped his last name out of respect for legendary boxer Sugar Ray Robinson) in Georgia, Charles began dabbling in music at three, later citing his influences as Chopin, Duke Ellington, Art Tatum, and Count Basie.
At seven, he lost his sight to glaucoma and was sent from his impoverished family to a school for the deaf and blind. While there, he learnt to repair radios, took up formal piano lessons, began writing music in Braille, and moved on to the clarinet, alto saxophone, trumpet, and organ. By the time he turned 15, his parents were dead, he had graduated, and music was the only option. So he began playing gigs in black dance halls, soaking in all kinds of genres before eventually moving to Seattle.
For a 16 year-old, Seattle must have been as big as the world. He fit right in though, settling into the style of the smooth crooners of the day. There were two things he did there that would change his life forever. One: he formed a band called the McSon Trio. Two: he got addicted to heroin. The band broke up quickly enough, but gave him the push he needed to develop his own style.
As for the addiction, it lasted 17 years.
Between 1948 and 1958, he did all the things most legendary musicians are said to have done: played all kinds of concerts, experimented with all kinds of music, hung out with all kinds of people, and wrote all kinds of songs. Then, in 1959, came What'd I say, with its simple piano riff and a whole lot of moaning. Some radio stations banned it at once, but Charles got his first big hit.
From there, the only route was up.
Between 1960 and 1966, Charles won nine of his 12 Grammy Awards, including the Best R&B Recording for three consecutive years, for Hit the road Jack, I can't stop loving you, and Busted. Other hits came.
He grew to be a friend of Martin Luther King Jr, once refusing to play to segregated audiences in South Africa. People began calling him a pioneer, not just for his music, but also his role in breaking down barriers between black and white pop. He made an instrumental jazz album called Genius + Soul = Jazz.
In 1965, he was arrested for heroin possession and jailed for a year. His version of Hoagy Carmichael's Georgia on my mind was made the state song of Georgia. In the 1980s, he returned to the charts. This time around, it was for country music. In the midst of all this, he managed to meet a whole lot of women, eventually divorcing twice and fathering nine children.
"I can take an audience and get 'em into a frenzy so they'll almost riot," he once told The Associated Press, "and yet I can sit there so you can almost hear a pin drop." At his death, Charles boasted more awards and citations than most performers his age. He was an original inductee into the Rock and Roll Hall of Fame, a member of the Blues Foundation Hall of Fame, Songwriters' Hall of Fame, Grammy Hall of Fame, Jazz Hall of Fame, Georgia Music Hall of Fame, and even the Playboy Hall of Fame! On July 20, 2003, he celebrated his 10,000th concert.
Not a bad life by any standards.
Jerry Wexler, the legendary producer, once said Charles was one of the first with the "blasphemous idea of taking gospel songs and putting the devil's words to them". Thousands of musicians, legendary and amateur, believe that while it could have been the devil's words, that kind of music could only have come from a musician touched by God.
Ray Charles. September 23, 1930-June 10, 2004. Rest in peace. You've earned it.
Photograph: Robert Mora/Getty Images