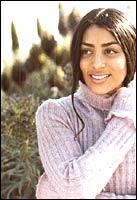 It is time for Reshma Gajjar to put behind her fleeting, one-minute scenes in such films as American Beauty.
Today, the artist who is in her mid-20s, is a dancer in Madonna's [now Esther] new show Reinvention and is on stage for more than half of the show. By the time the show ends after about six months, she would have danced before more than a million people in about a dozen countries.
Reshma chats with Senior Editor Arthur J Pais in New York.
What is a good desi girl doing in a Madonna show?
(Laughs) I am having this incredible rush. It is a natural rush. I can't believe I have a chance to dance before thousands of people in over a dozen American cities and many cities abroad. Some shows have had more than 40,000 people.
| | |
| --- | --- |
| | More on rediff.com! |
| | |
What was your parents' reaction when you told them that you were signed for the show?
They were apprehensive in the beginning. But they know Madonna is a much changed person. She is not out there to create scandals. My parents did not know much about how Madonna has changed but they trusted me. They were convinced I could think well.
Madonna is a deeply spiritual person. She is opposed to war. Those are my thoughts too. You know we pray before each show opens.
Do you pray otherwise?
Often. Though I was raised as a Hindu and consider myself to be one, I do not pray to any particular deity. To me, praying is a constant reminder that there is something bigger than us. It is also a reminder that we are nothing but instruments of the divine. You feel humbled when you think on these lines. I consider it important for everyone, especially performing artists, to be reminded of the humility we ought to possess.
Did Madonna interview you and other dancers?
There were two to three auditions, after which she met with us, and asked us if we wanted to dance with her on her shows. Of course, we yelled out our answers. But she also asked us something very interesting.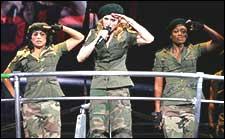 And that was?
She wanted to know our birth signs. She wanted to know which of us were compatible with her birth sign. After all, we were going to spend many months with her touring the world.
What impresses you most about Madonna?
She uses her fame and voice to send out messages about peace and unity. It is, by no means, a small responsibility. Many artists are concerned about themselves. Madonna is in the tradition of great artists who have used their talent to help to create a better society.
What was your reaction when you got the job?
I have been dancing professionally for many years. But this is my biggest break. Though it was not in my hands.
What was not in your hands?
Getting this opportunity. God gave me the job. I am a mere tool of God. He gave me an opportunity to be a stronger person, a better artist. Perhaps he wants me to be an inspiration to other aspiring artists.
Was there was karma involved in you getting this opportunity?
I was returning from another tour and arrived in Los Angeles a day before schedule because we got into an earlier flight. My agents told me there was an audition for the Madonna show that day. I was tired, I wanted to go home to my parents [near San Francisco] but I went to the audition anyway. I am convinced it was God's will.
When I was selected, I relearned an important lesson that my parents have drilled into me.
And that being…
If you work very hard, God will make it happen. But you must have a clean heart and not be consumed by envy, jealousy or want to put someone down.
When did you decide to be a dancer?
My parents tell me I have been dancing since I was three. They enrolled me in a school near our home in Stockton, California, where I could learn dancing traditions, including ballet and tap dance. My parents remember me unable to stand still. I always danced, they say, and they noticed I had plenty of energy and enthusiasm to dance through the day. They realised very soon I had a gift for dancing.
Are your parents traditional?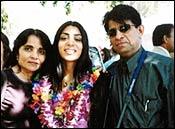 My parents are professionals. My father manages financial portfolios and my mother is a research analyst. But they are traditional. My sister and I, for instance, have a very good grounding in religion and tradition. We went to Sunday school at a mandir near home.
The foundation I got there is so strong that my parents trust me completely to be a responsible person whether I travel with Madonna's group or anyone else in America, Germany or Thailand.
What are some thoughts that come to mind when you think of yourself as an Indian American?
As Indian Americans [especially first generation] we have the best of both worlds. We have much to share and give back to the world.
How did your family affect your career?
My family and values from my culture kept me grounded. With that foundation, I was able to succeed on my own without having to sacrifice or change who I was. Taking that path was a longer journey to achieve my dreams.
Why was it a longer journey?
My parents insisted I should have a degree even while I pursued my training as a dancer.
What was your formal dancing training like?
I have been trained on the East and West coasts. Four years ago, I received the Edge Scholarship in LA. That meant I was learning dancing full-time. I wanted to discontinue studies but my parents would not let me. They had seen how serious I was about dancing and I had always been a responsible kid. They were willing to let me follow my dancing dreams and were going to support me financially. But they had one key condition.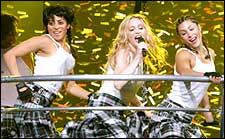 They wanted a commitment from me that I would have a college degree, never mind how much it cost me by way of loss of sleep. I ended up with a degree in business law.
Are you happy with their decision?
Of course. I am sure my parents did something very smart. I was able to grow inside me much more because I was also studying and meeting many more people, professors and students, from all over the world.
How did the internal growth evolve?
I knew early on that success shouldn't be measures by society's eyes (Indian or American). The only person I wanted to impress was myself. I didn't always fit in, but you should not even want to.
Although it was frustrating at times, it inspired me to be myself. There was a heightened awareness of my position in the industry.
What kind of awareness?
Being one of the only Indian-American dancers in the commercial entertainment industry, I definitely took it upon myself to feel responsible in how I represented the community.
If I can inspire someone to have faith in their dreams, I feel my true purpose in doing something like this is fulfilled.
Click here for
More Interviews