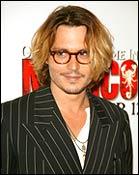 While many people would think the Best Actor Oscar could go either to Sean Penn (Mystic River) or Bill Murray (Lost In Translation), don't be surprised if the surprise nominee Johnny Depp, who played the flamboyant buccaneer in Pirates Of The Caribbean, goes home with it.

It could be the kind of upset victory that will send loud gasps in the auditorium like it happened last year when Adrian Brody won for The Pianist. The recent Screen Actors Guild award to Depp would certainly boost his prospects.
Depp who, like Penn and Murray, has the reputation of being a Hollywood maverick, has never had a hit as big as Pirates. With a $325 million gross in North America, it is by far the most seen film in the Best Actor category.
The Jude Law nominated Cold Mountain is headed for a $95 million gross and so is Mystic River. Lost In Translation, now available on DVD and video, has grossed about $44 million and is fast fading.
Another grim and yet haunting film House Of Sand And Fog that brought a nomination for Ben Kingsley is also fading fast. Its $12 million gross may seem too small compared to mainstream films but this film is an arthouse success.
***
Alec Baldwin, a surprise nominee in the Supporting Actor category for playing a wily casino director in The Cooler, has much more on his mind these days than the Oscars.
Baldwin, famous for his outspoken liberal stances and pro-animal right activities, is now in a custody battle with ex-wife Kim Basinger.

Basinger, an Oscar winner for her supporting role in LA Confidential, divorced Baldwin two years ago, and the two had joint legal custody of their eight-year-old daughter. According to the reports in Los Angeles media, Baldwin has sought the court's intervention, complaining that Basinger, who is even more a bigger animal rights activist than he is, has made it difficult for him to reach the child.

Meanwhile, The Cooler, which has become an arthouse hit with an $8 million gross (but fast fading), has brought renewed attention to Baldwin's career. He has been seen in many big budget films recently, including The Cat In The Hat, which grossed about $100 million but it is his work in The Cooler that could rejuvenate his career, even without an Oscar win.
He has very tough competition. The general consensus has it that Tim Robbins could walk away with the trophy. But if there is an upset, the winner could be Benicio del Toro for his work in  the grim but riveting 21 Grams. And that would be his second win following the hit drug drama Traffic.
***
Which is the least seen of all Oscar nominated films in the acting category?
It certainly is Pieces Of April, which grossed just about $2 million and went into DVD sale last week. Patricia Clarkson, who plays in it a bitter cancer-fighting mother who ultimately has to reconcile with her rebellious daughter, has acted in many independent films, including The Station Agent, but it is Pieces Of April that is getting her renewed recognition.
She is not confining herself to small movies all the time, though. You will see her as the wife of an eccentric and tough hockey coach (played by Kurt Russell) in the current hit, Miracle.

If you haven't caught Pieces Of April in the theaters, see the wise, comedic and heartfelt film on DVD. The movie unfolds on a Thanksgiving Day with a white straight-laced family on its way to New York where their daughter -- without their knowledge -- is living in a shantytown with her black boyfriend.
Katie Holmes as the rebellious daughter is great fun. The film was written and directed by Peter Hedges, who deserves far more recognition than the film has brought so far.

The film offers much more than the dynamics of a troubled family. It also offers rich glimpses into immigrant lives in New York.
Photo: Getty Images