A woman in her 60s pushed her way through the security guards. She was trying to reach her idol for an autograph.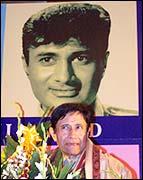 Her husband managed to pass on a page to the idol.

"Did you get his autograph?" the lady asked her husband.

"Yes, I did," replied the husband.

"Wow! That is the best thing you did for me," said the grey-haired lady.
Indeed, that evening, everybody felt young.
They were in the midst of legendary actor-filmmaker Dev Anand.
Popular industry personalities -- like Dharmendra, Prem Chopra, Manoj Kumar, Ranjit, Manisha Koirala, Amisha Patel, Vijay Anand and Yash Chopra -- gathered at a function recently organised by the Shiv Sena Member of Parliament Sanjay Nirupam, to felicitate Dev Anand winning the Dadasaheb Phalke Award.

"We are here just to show solidarity for Devsaab and display our love and affection for him," said Uddhav Thackeray, chief guest and working president of the Shiv Sena. "Devsaab stuns you with his energy and youth. I am in my 40s, but I feel very old compared to him," he added.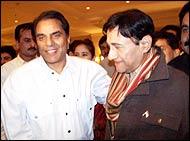 In the background popular Dev Anand songs entertained the guests. And in the foreground was the star, with his trademark cap. There was no trace of fatigue on the actor's wrinkled face. He smiled, greeted and waved to everyone. 

Commented a fan, "He has not forgotten to wear his cap despite the fact that we are in an air-conditioned room."

"That is Dev Anand," added his friend.

Dharmendra, who admitted to being out of touch with the film world of late, said, "Whenever I feel down and out, I look at Devsaab and tell myself, "'Dharmendra, utth. Khada ho ja aur Devsaab ke jaisa kaam karna shuru karde [Get up. Start working like Devsaab]."

Recalling his first meeting with Dev Anand, Dharmendra said, "I always admired Devsaab as an actor. I never bothered to look at his heroines [in his films]. For me, he was always the central character of the film. He had a style that nobody could copy. I am sure no one [in the industry] will ever be able to."

Director Yash Chopra said, "Whenever the history of Indian cinema will be written, his name will always top the list. I have learnt one thing about him: he has no agenda on his mind. He never gets involved in the politics of filmmaking. His only concern is to make good cinema."

Actress Manisha Koirala said, "I have only one regret Devsaab: I never had a chance to work with you. My mother is a great fan of yours. My father tried desperately to act and dress like you to impress my mother. I want to say what everyone says about you: what a man! What a man!"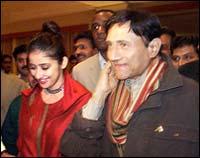 Brother and filmmaker Vijay Anand (Goldie) said emotionally, "I call him Papa, though he is my elder brother. He is like my father. When our eldest brother Chetan Anand died, I wept and wept, but Devsaab didn't shed tears in front of anyone. He keeps his emotions to himself. When he is hurt, he never shows or expresses his sorrow. He hides his sorrow within him."

He also revealed that he plans to direct a film about Chetan Anand with Devsaab. Dev Anand will play Chetan Anand's role. The rest of the film will have newcomers. "It is a tribute to our eldest brother," said Goldie.

Finally, when the legend rose to speak to the audience, there was pindrop silence. "A lot of people ask me what keeps me going. I say optimism and creativity of mind. I feel that I am a student in life. I learn something new every day."
Photographs: Jewella C Miranda