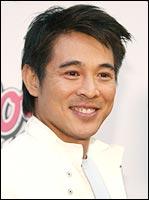 Jet Li was vacationing in the Maldives when the tsunami struck, but the international martial arts star preserved his life -- and reputation -- as he survived the havoc and rescued his daughter.
E! reported that Li was vacationing with his daughter at a Maldives resort, when the massive earthquake devastated Sumatra early Sunday.
Hong Kong's Apple Daily newspaper quoted an unnamed friend of Li's as saying the actor and his daughter were in the lobby of the hotel when a wall of water surged into the building. Li was 'dinged' by a piece of floating furniture, sustaining a foot injury, said the Ming Pao Daily News, but still managed to scoop his daughter up and escape relatively unharmed.
After making it to higher ground, he managed to call his agent and let him know of their safety.
A representative for Li confirmed to E! on Monday that the actor was indeed vacationing in the Maldives and had managed to avoid injury.
Photograph: Getty Images