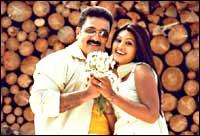 It is not possible to watch Vasool Raja MBBS in isolation, without making comparisons to the Hindi original Munnabhai MBBS.
For that matter, all remakes are bound to be compared with the original. I don't know whether there are any remakes that better the original.
Vasool Raja is a faithful remake of the original. Same story. Same situations. But the dialogues by Crazy Mohan lack the punch and humour that the original had.
| | |
| --- | --- |
| | More on rediff.com! |
| | |
Munnabhai may have been a novelty to Hindi audiences but in Tamil, there is nothing unique about Vasool Raja.
Kamal Haasan has done similar comic roles before, and you don't find much difference between this film and say, Thenali or Pammal K Sambandam. In fact, while making this film, Kamal said, "I have done similar roles before."
Kamal has done some amazing, unforgettable comedies in his career like Pushpak, Michael Madana Kama Rajan, Sati Leelavathy and Avvai Shanmugi to name a few. These films are much better than Vasool Raja. They can be seen repeatedly, and make you laugh every time you watch them.
Vasool Raja, on the other hand, is worth just one watch.
Kamal has also experimented with various accents before. He talked like a Sri Lankan Tamil in Thenali, and was perfect in his Malayalam mixed Tamil as a Palghat Brahmin cook in Michael Madana. In Vasool Raja, he spouts the Chennai lingo.
Munnabhai's strength was Sanjay Dutt who looked loveable and vulnerable. Dutt fit the role perfectly, unlike Kamal.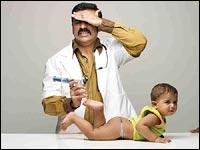 The biggest disappointment is Prabhu as Vatti (in Hindi, it was Circuit), a role very successfully played by Arshad Warsi. Prabhu looks old and slow. Even National Award winning actor Prakash Raj fails in comparison with Boman Irani. Only Sneha, the beautiful young actress, looks better than Gracy Singh, who starred in the original.
What goes in the film's favour are the two songs sung by Kamal: Alwarpetta aandava and Kalakka povathu yaaro. Though the music composed by Bhardwaj is nothing to write home about, these two songs have become huge hits.
Vasool Raja is doing well commercially. It shows that those who have not seen the original will still enjoy the film, laugh at the jokes written by Crazy Mohan and love Kamal repeating himself. It also shows there is no point in comparing a remake with an original that was made in a different language.
Hindi films are watched only by a small part of the population in Chennai, and this film is not made for them. It is made for those who want to have some fun, and they will definitely have it.
Vasool Raja is Kamal's show all the way. He does comedy, dances wonderfully, sings, and also does some great stunts. What more can people ask for by way of entertainment?