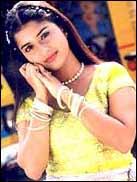 It was destiny that brought Jasmine Mary Joseph from a small town called Kuttapuzha in Tiruvalla to the world of cinema. She was just an ordinary girl who wanted to study and become a doctor. She never entertained dreams of becoming a film star. She did not even consider herself beautiful or attractive. But that was not what director Lohitadas thought when he saw her.
Jasmine Mary Joseph had gone to see the shooting of a film along with a group of school friends. The only reason they went was because the shoot was taking place in their small town. As she watched the lights and the stars, the director noticed the girl and felt that there was something special about her. When he asked her whether she would be interested in acting as the heroine in his next films, she was shell-shocked.
She belonged to a very conservative, God-fearing Christian family, and it was unthinkable for a girl from such a background to act in films. "I had never shown any inclination to act till then. I had not acted in a single play in school," she said later.
But she said 'yes' to Lohitadas, and Jasmine Mary Joseph became Meera Jasmine, the heroine of Soothradharan. Her hero in the film was Dileep.
| | |
| --- | --- |
| | More on rediff.com! |
| | |
But what happened after Soothradharan was rather unexpected for the young girl. She became the target of the yellow press in Kerala. So frustrated was she that she refused to sign a single film in Malayalam for a while. Other actresses who entered the film industry at the same time, like Navya Nair and Kavya Madhavan, surged ahead.

But Meera Jasmine believes it was God who took her away from the filthy world of gossip and brought her an offer to act in a Tamil film opposite teenage heartthrob Madhavan in Run. The film became the perfect route for her to escape the ugly press in Kerala. Run, directed by Lingusamy, became a huge hit in Tamil Nadu and Meera Jasmine became a sought-after actress.

Though the films that followed Run did not fare as well, she was noticed by none other than Mani Ratnam who also felt there was something special in her. The ace director offered her a role opposite Madhavan in Aayutha Ezhuthu. Suddenly filmmakers started looking at Meera Jasmine with a lot more respect. As the film had sync sound, Meera, who did not know Tamil at all, worked hard on her diction, and delivered all her dialogues herself.

Just before Aayutha Ezhuthu happened, she did a couple of films in Malayalam and one of them, Swapnakoodu, was a big hit in Kerala.

Once again, she was bombarded with a lot of criticism in Kerala for rejecting a Malayalam film (Mullavalliyum Thenmavum) for a Mani Ratnam film. "I cannot understand why people criticise me. Any artiste would have done the same thing, I am sure."

Lady Luck came to her rescue once again. She was flooded with offers in Telugu, and she decided to do more Telugu films. She was crucified in Kerala for giving preference to Telugu films, but by now she had gained a lot of confidence and courage. After conquering Tamil and Telugu, she moved to Kannada, signing a film opposite Puneet Rajakumar.

Even as she continued acting in all the South Indian languages, all of them commercial ventures, Meera decided to act as Shahina in T V Chandran's Paatham Onnu Oru Vilaapam. The film is about a young Muslim schoolgirl who is married off to a man who already has a wife. Meera Jasmine's mind-blowing performance in the film won her the best actress award from the state first. Now the National Award also is hers.

"I don't take any credit for my success. I believe that it is God above who is pushing me to do many things. Otherwise, how can you explain a girl from Tiruvalla who has absolutely no background in acting achieving so much in films? It's all designed by Him," she said when she heard about the national award.

She has already decided what to do with the money that comes with the award. She will donate it to a charitable organisation in Palghat.