His hairline has receded and he sports a half-haggard, half-wise look. His new track Send your love has done ample airtime already and the zippy fast-paced images from the video bear a familiar stamp. You don't have to wait for the singer's voice to know this is the work of the man who used to be called Gordon Sumner.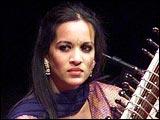 Sting's new album Sacred Love, out today, is positioned as a stringent protest against the war in Iraq and the hostility around the world  in general.
As with his last album Brand New Day, Sting abandons the rock sounds of his days with The Police for a fresh new electronic flavour, layered with R&B sounds and drenched with his trademark voice.
And just as Cheb Mami made Desert rose memorable with his yodelling bursts of rai singing, the new album also has a few guests, which makes Sting a World Music artist of the mainstream.
Anoushka Shankar is one, and her sitar weave on The book of my life was hailed by the Boston Globe's music critic as 'brilliant.' Others include R&B star Mary J Blige on Whenever you say my name and flamenco guitarist Vicente Amigo on Send your love.
Keep your ears tuned.
Mega-mom Madonna books the top slot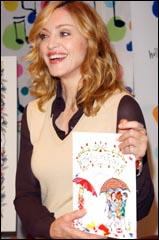 To be a top-selling children's book writer you need:
a) A hot body and a few hit records
b) At least two hit-and-run marriages
c) One previous book, preferably on sex
Worry, J K Rowling. And fade away Enid Blyton and Dr Seuss.
At the top of the heap this week is Madonna, with her illustrated children's book, The English Roses. One week after its release in 30 languages in more than 100 countries worldwide, the pop star's first book for children -- a story about the importance of compassion and the rewards of friendship among five schoolgirls in contemporary London -- is a global bestseller.
The English Roses will enter The New York Times bestseller list in the October 5 edition of The New York Times Book Review in the No 1 position for children's picture books. Fashion artist Jeffrey Fulvimari has illustrated the 48-page jacketed hardcover book, the first in a series of five. The next, Mr Peabody's Apples, will be out on November 10.
Madonna Louise Veronica Ciccone, 46, who once again shocked the world by locking lips with pop stars Britney Spears and Christina Aguilera at the MTV music awards last month, has more number one singles on the US charts than any other singer, according to Billboard. She has two children -- Lourdes Maria Ciccone Leon, 6, from her relationship with personal trainer Carlos Leon, and Rocco, 2, from her husband filmmaker Guy Ritchie.
| | |
| --- | --- |
| | More on rediff.com! |
| | |
Madonna's run in print has been more fortunate than her celluloid stints. Her movies
Shanghai Surprise
(1987) and
Swept Away
(2002) were dismal failures, though
Desperately Seeking Susan
(1986) and Alan Parker's acclaimed musical
Evita
(1996), in which she portrayed Eva Peron, did better.
In 1992, her erotic book Sex sold out within hours of its release and required an immediate reprint.
Not unexpected of bedtime stories. Except, The English Roses is strictly for kids.
Kraving Miss Kidman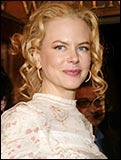 Lenny Kravitz is grooving, and how!
If rumour mills are to be believed, Kravitz might exchange vows with Nicole Kidman. The Hours star and the maverick singer have been reportedly dating all summer and, according to New York Daily News columnists, are engaged.
But Kidman's publicist Catherine Olim denied such speculations, saying the two are 'friends and spend a lot of time together.'
Kidman, 37, has been staying over at Kravitz's SoHo loft while her $8 million home in West Village is being renovated. Tongues began to wag after a series of 'sightings', where the friends reportedly looked very cosy. Kravitz, 39, has been dropping by the sets of The Stepford Wives, Kidman's latest film.
Kidman, who divorced actor Tom Cruise in 2001 after 10 years of marriage, has been linked with Spider-Man star Tobey Maguire and British singer Robbie Williams. The singer was married to actress Lisa Bonet for four years.
Kidman is reported to have said recently that she would remarry 'in a heartbeat' if the right man came along.
How long does a heartbeat last? 
New releases
Soul diva Aretha Franklin, 61, released So Damn Happy (Arista), her first album in five years.
British singer Dido returns with her second album Life For Rent. Her first, No Angel (1999) introduced her luscious voice and latch-on tunes to the world with Here with me and the Eminem-sampled Thank you.
Photographs: Getty Images

Click here for More Sound Check