Performance is a double-edged word. But for Melanie C, it has nothing to do with sex.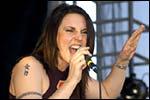 When the former Spice Girl was asked to choose between the stage and the bedroom, she told the Sunday Mirror's M Celebs magazine: 'I'd have to say being on stage.'
Mel, 29, who has battled depression and weight problems since the Spice Girls broke up, is recovering from a knee injury she sustained while shooting for Channel 4's sporting show The Games. She went on to complete her second solo album recently, and her two new singles are not doing badly on the charts. Good tidings, given that Posh Spice Victoria Beckham's comeback attempts have all but fizzled out.
'I put my heart into my records and whether I'm a size eight or a size 14, my music still sounds the same,' Mel told the magazine.
Perhaps that's what performance is about -- just doing it. 
Scorsese's lucky stars
Van Morrison, B B King, Eric Clapton and the Rolling Stones… these are some of the greats who will jam together at London's Abbey Road Studios. And filming the accompanying television documentary will be Martin Scorsese (Gangs of New York, Casino).
Scorsese aims to get 20 tracks for Feel Like Coming Home, a documentary for America's Public Broadcasting network. No stranger to stars, he has also directed The Band's farewell concert, featuring guest appearances by Morrison, Neil Young, Bob Dylan and Joni Mitchell.
Keep those eyes, and ears, peeled.
Who said he's fired?
It's damage control time for Sir Paul McCartney.
The Beatle, accused of roughing up a photographer who tried to take pictures of him attending illusionist David Blaine's Perspex box stunt in London last week, denied he had sacked his long-time publicist Geoff Baker.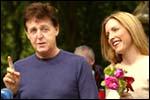 Police confirmed they intervened to break up a scuffle between McCartney's aides and photographer Kevin Wheal, who claimed Baker had given him the go-ahead. Some reports alleged McCartney had hit the photographer, but Baker denied this. 'There was pushing and shoving but there were certainly no punches thrown,' he said.
The Beatle, Baker said, was 'incandescent' and told him he was fired.
Baker, a former Fleet Street journalist who became an adviser to Sir Paul in the early 1990s, has handled high-profile events like the Sir Paul's first wife Linda McCartney's death, his rows with John Lennon's widow Yoko Ono and his marriage to model Heather Mills, who is expecting their first child.
Checked out and cashing in
America has perfected the art of celebrating its heroes. But the greatest honours are apparently reserved for the dear departed. Dead soldiers become patriots, dead Hollywood actors become legends, and dead singers become, well, richer.
The last one in is Johnny Cash.
A week after his death the country singer, dubbed the Man in Black, won three Americana awards, instituted by Americana Music Association, which promotes traditional country music.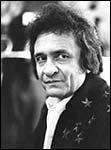 Cash won song of the year for Hurt, an anti-drug song penned by Trent Reznor of the rock group Nine Inch Nails, and Album of the Year for American IV: The Man Comes Around, the latest in a series produced by rock-rap producer Rick Rubin.
He was also selected artist of the year for his work on the song and album
Maybe the honours came a week too late. But then, does one need a life to win a lifetime achievement award?
Photo: Getty Images