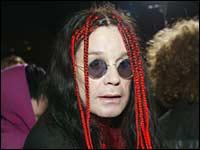 Ozzy Osbourne
says it has been fixed, but fans grew concerned when the former Black Sabbath frontman cancelled some dates on his European tour last week due to nervous tremors.
Osbourne told MTV that the nervous tremors are a hereditary condition that has plagued him since his twenties, and has gradually worsened. He denied rumours that he had Parkinson's disease or that the excesses of his younger days had caused the tremors.'I swear on my wife and my children's lives that I do not have Parkinson's,' Osbourne said. He added that the condition degenerated as he grew older but there was treatment for it.
In a statement released October 14, Osbourne said his doctor advised him to delay the European tour, which was to have begun October 22 in Dublin. The singer said the tremors were 'practically destroying my life along with my self-esteem.'
| | |
| --- | --- |
| | More on Rediff! |
| | |
Now, Osbourne says he has been successfully treated. A neurological specialist at Boston's Tufts University has put the singer on a new medication that, he says, has brought the problem under control. A side effect of the new medicine is a dry mouth, which forced Osbourne to cancel the tour.

'This doctor is my guardian angel,' Osbourne told MTV. 'When this guy put this medication in my vein, it was like someone had turned this machine off in me. It was like instant, man!'

Ozzy and his pack, including daughter Kelly with whom he recorded a video recently, have enjoyed a rise in popularity as rock's first family since they opened up their home life for the MTV reality series The Osbournes, which is now in its third season.

Judge raps in Eminem's favour

It was an unusual birthday gift for Eminem. First, a legal victory and, to top it all, a judgement that was rapped out by the judge.

On October 17, Judge Deborah Servitto dismissed a defamation lawsuit filed against the rapper by former schoolmate D'Angelo Bailey. In the $1 million lawsuit filed in December 2001, Bailey alleged Eminem defamed him and damaged his career as an aspiring rapper when he depicted Bailey as a bully and his nemesis in junior high school. Bailey accused the rapper of doing this to gain credibility.

Judge Servitto included a 10-stanza rhyme as a footnote to the judgement. Part of it read: 'It is therefore this court's ultimate position, that Eminem is entitled to summary disposition.'

The judge said Eminem's lyrics are 'stories no one would take as fact, they're an exaggeration of a childish act.'

In his song Brain damage from The Slim Shady EP, Eminem referred to Bailey by name and said he harassed him daily at school. The lyrics went on describe how Bailey banged his head 'against the urinal until he broke my nose' and 'soaked my clothes in blood, grabbed me, and choked my throat.'

On Her Majesty's Photographic Service

Heard of Bryan Adams, the royal photographer?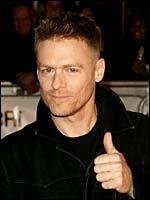 A photograph of Queen Elizabeth II that the Canadian singer took will be used for a postage stamp in his country. Canadian postal service spokesperson Cindy Daoust told the Canadian Press that Adams 'was looking to capture the mother and the grandmother in her and I think he did that.' Adams took the picture while attending the Queen's Golden Jubilee celebrations in 2002.
More than 10 million copies of Adams's Queen stamp will be produced in the first run on December 19. The postal service paid Adams a 'small honorarium'.
Upcoming releases
November 14: Dave Matthews Band's The Central Park Concert will be released as a triple-disc CD and double-disc DVD by RCA. Fans who pre-order through the band's official website by November 14 will receive an exclusive seven-track live disc drawn from the group's summer North American tour.
November 17: Talking Heads, the Rhode Island band that took the eighties by storm, will release a box set career retrospective. Once In A Lifetime will feature three CDs and a bonus DVD. The CD set features hits like Psycho killer, Once in a lifetime and Burning down the house along with fan favourites such as Pulled up, Heaven and Houses in motion. The DVD, titled Storytelling Giant, is a collection of the band's top music videos.
Photo: Getty Images

Click here for More Sound Check