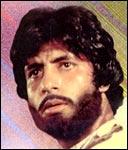 Satte Pe Satta
is that rare film which passes the test of being a successful remake of a Hollywood movie. Based on
Seven Brides For Seven Brothers
,
Satte Pe Satta
is a treat. The other film that comes to mind is
Parichay
based on
The Sound Of Music.
Released in 1982, Satte Pe Satta was a musical comedy in a truly commercial format. It was a clear drift from the Hrishikesh Mukherjee and Basu Chatterjee style of comedies that were subtler and had smaller budgets. Satte Pe Satta's cast included the stars of the decade: Amitabh Bachchan, Hema Malini and Amjad Khan, with an able supporting cast.
The story revolves around seven brothers (Bachchan, Sudhir, Indrajeet, Kanwaljeet, Shakti Kapoor, Paintal and Sachin) who live in a farmhouse and are ignorant about the rest of the world. Filthy, ill-mannered and unsophisticated are words that would best describe them.
They find love and support in the form of Hema Malini's character Indu who is Ravi's (Bachchan) lady love. After a lot of drama, the brothers accept her and, more importantly, she accepts them.
| | |
| --- | --- |
| | More on rediff.com! |
| | |
The other brothers fall for some girls they spot on a beach. These girls have just one job -- to look after Ranjeeta, who can't walk and is dependent on a wheelchair. Her uncle, Amjad Khan, wants to kill her and inherit her wealth.
The desperate, lovelorn brothers kidnap the girls one night. This gives Khan an idea as to how he can kill Ranjita. He replaces Bachchan with a lookalike, Babu (Amitabh again). But all's well that ends well as Babu undergoes a change of heart and finds love with the very lady he was sent to kill.
Satte Pe Satta
had right doses of humour, music and action. Director Raj Sippy handled the characters with expertise. Though there were a lot of them, no one looked out of place. Amjad Khan was the perfect choice as there weren't many villains who could match Bachchan's charisma.
But the film belonged to two people: Bachchan and music composer R D Burman.
In a double role, Bachchan is a treat to watch. He shows three shades in the movie: the rowdy eldest brother, a sophisticated husband madly in love with his wife and the taciturn villain who is shaded in grey. Even his hair and eyes are coloured grey!
Ravi's drunken scene with Amjad Khan can be compared to the one in his earlier film, Amar Akbar Anthony. It was so difficult that it was not dubbed and the voice recorded in the original shoot was used in the movie. You can even hear the camera whirring in the background!
Burman composed eight near-perfect tracks for the film. Even the background score is one of the best ever in Indian films. Every appearance by villainous Babu on screen is accompanied by a scary sound. Annette (a singer in RD's group) used to gargle to create the sound!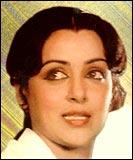 Pyar humein kis mod pe is a treat both for the eyes and ears. The tempo of the song builds beautifully to first show the brothers' despair as they pine for their respective lady loves and then their excitement as they make their way to kidnap the girls. Jhuka ke sar ko is a sweet number done in the Western-musical format, interspersed with dialogues. Check out the mouth organ prelude of Zindagi milke bitaayenge played by Pancham (Burman) himself. He was fond of the instrument and also played it for his father's song Hai apna dil toh aawara (Solva Saal, 1958). Mausam mastana is another rare song sung by Dilraj Kaur. Other chorus songs include the voices of lyricist Gulshan Bawra, Sapan and Basu (assistants to the composer) and Pancham himself.
Sippy and Burman have worked together on other films like Jeeva, Andar Bahar, Qayamat, Boxer, Shiva Ka Insaaf and Sitamgar.
The sets were beautifully created to suit the rustic environs. Sippy's direction showed sophistication. His handling of the script showed maturity. There was never a point in the movie where the audience lost attention. This venture was a complete entertainer, something that is hardly seen today.
My memories:
The sequence wherein Amitabh saves Sachin's character from a wild horse.
The scene when Amitabh marries Hema and brings her home only to be welcomed by his filthy brothers engaged in a brawl.
The brothers use a string of weird words 'Chain kulee ke main kulee kee chain' in order to gather strength at the time of crisis.
Amjad Khan's den, which is located in an island, and seems straight out of a James Bond flick.
Dilbar mere is undoubtedly one of the best Kishore Kumar numbers I've heard. The song is also interesting as it marks the change Amitabh's character undergoes to impress Hema.
Note how Shakti Kapoor's character's stuttering speech is used in the songs. It shows the director's and composer's effort at detail.
Click here for
More Features