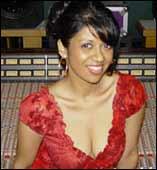 Hip-hop's Indian flavour just got a whiff stronger.
Philadelphia-based singer Raje Shwari features on a new single by rappers Timbaland and Magoo. The duo's recently released Indian flute is the second single from their upcoming album Under Construction 2.  
Raje Shwari, who debuted as a guest on rapper-producer Jay-Z's song The bounce from the album The Blueprint 2 – The Gift And The Curse, has also worked with rapper Ms Jade and performed on the Nas & Pharrell track The Flyest from the soundtrack of Charlie's Angels: Full Throttle.  
On the Jay-Z produced track she sang the sole refrain Chole ke peeche kya hai, which caused some discomfort in Bollywood in the wake of a lawsuit filed by composer Bappi Lahiri against hip-hop producer Dr Dre for allegedly remixing his song in the single Addictive by Truth Hurts. But in this case, the producer got away by playing safe. 
Raje Shwari, whose parents are from Gujarat, told The New York Times a few months ago that she would not have become interested in Indian music had hip-hop not led the way. 
Louis Armstrong's house of jazz
The red brick house where the king of jazz lived and died will open to tourists on October 16. Louis Armstrong's home in Queens, New York, will give visitors a glimpse into the celebrated trumpeter's life. 
Pops or Satchmo, as neighbours and fans variously knew Armstrong, married his fourth wife Lucille, the first black dancer at Harlem's fabled Cotton Club, in 1942. The couple moved into 34-56 107th Street in the Corona neighbourhood of the New York borough of Queens in 1943. The way Lucille dressed up the house won over Armstrong and he lived there with her for the rest of their lives. The jazz great died there in 1971; Lucille continued to live there till she too passed away.
The house will go on show pretty much as Lucille left it, complete with Satchmo's memorabilia, including his bottle of bourbon, his tapes containing many hours of conversation, and the mechanical chair that he used to climb the stairs in his final years. 
Armstrong had no children from any of his four wives. In 1983, the house was left to the Louis Armstrong Educational Foundation, which entrusted it to the New York Department of Cultural Affairs. Satchmo's archives went to Queens College. 
It took 10 years and about $1.6 million to restore the house and open it as a museum the way Lucille wanted it. 
Perhaps love's labour can never be lost.
Click here for More Sound Check