George Harrison's guitar would have gently wept all over again.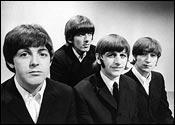 In a fitting tribute to the Quiet Beatle, a star cast of artistes converged to present The Concert For George, recorded November 29, 2002, a year to the day after his death.
Eric Clapton, Jeff Lynne, Tom Petty, Joe Brown, Pandit Ravi Shankar and former bandmates Sir Paul McCartney and Ringo Starr gathered at London's Royal Albert Hall to perform in memory of Harrison, who died of cancer at his California home. The Concert For George was captured in an epic concert film directed by David Leland.
Clapton, who remained the Beatle's good friend despite marrying his first wife Patti Boyd, performed I want to tell you from Revolver and If I needed someone from Rubber Soul. Petty and Lynne, Harrison's compatriots from his Travelling Wilburys days, performed the group's Handle with care.
McCartney played a wonderful rendition of Something, that quintessential Harrison composition. There were stellar performances from Ravi Shankar and Harrison's son Dhani.
Starr's performance in Photograph has been criticised as 'ostentatious' and 'tone-deaf' but that, to anyone who knows the Beatles, is not news.
Garcia, bottled
The next time you raise a glass to Jerry Garcia's memory, toast him with his signature wine. A California winery will soon launch a special wine named for the late Grateful Dead singer.
The Clos du Bois winery in Geyserville, about 140 kilometres north of San Francisco, is launching J Garcia wines, which feature his legendary artwork on the labels. Garcia, who went to school in Geyserville, led the Grateful Dead for three decades before he died of a heart attack in 1995.
The San Franciscan band, which first grouped in 1963 under various names including Mother McCree's Uptown Jug Champions and The Warlocks, was known for its experiments with improvising jazz, blues and bluegrass with lyrics influenced by the 1950s beatniks. The group was equally famous for experimenting religiously with the hallucinogenic drug LSD in one of many 'acid test' sessions conducted by cult leader Ken Kesey, who died in 2001.
The wine, it is believed, offers no such psychedelic highs.
The initial release of J Garcia wines consists of 50,000 cases of 2002 Sonoma County chardonnay, 2000 Sonoma County merlot and 2000 Sonoma County cabernet sauvignon. A zinfandel will be out later this year.
Garcia will be grateful. 
Photo: Getty Images
Click here for More Sound Check